Mixing Colors with Water Balloons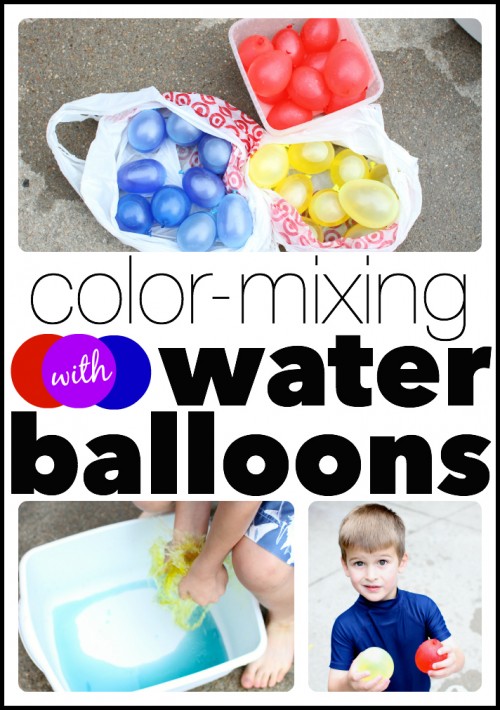 This was a super fun art activity for a hot summer day! We had a great time mixing colors with water balloons! We used water colored with liquid watercolors within each balloon to create secondary colors once they were popped and mixed!
Here's what you'll need:  liquid watercolors (you can use food coloring, but it might stain clothes/hands), water balloon pumper, primary colored water balloons, water, and a dish tub or plastic container.
This is the type of liquid watercolors that we use.
 1. Inflate the water balloons using each individual color inside the coordinating color of water balloon. We have this water balloon pumping station and love it because of the tie-not feature (it totally saves our hands from having to tie a million water balloons). :)
 2. Find a place (outside) to begin the color-mixing fun!
 3. Have your child choose two colors of balloons…
 …and pop them in whatever way he/she would like. Stomp, squeeze, or throw!
 4. Swish the water around to see what color the two balloons create.
 Little Brother thought that this activity was pretty cool. :)
5. Dump out the contents each time into a larger container…
 …and see what happens when all the colors are mixed together!
 Be sure to check out our Sum Splat learning activity also featuring water balloons!