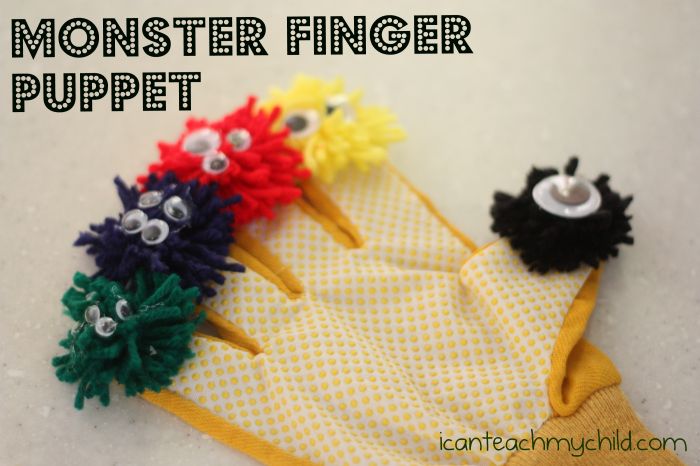 These little boogers are fun for kids of all ages! There are so many fun ways you can use this puppet glove:  color recognition, one-to-one correspondence, songs, and monster-tickles…just to name a few!
All you need is a gardening glove (I got mine on clearance last year for 50 cents from Michael's and just knew I would find a use for it at some point), various colors of yarn, wiggly eyes (which I got for free from Craft Project Ideas), and a hot glue gun. It took me all of about 20 minutes to make from start to finish.
 To make the little pom-poms (for the monsters themselves), just take some yarn and wrap it several times around 2 of your fingers.
 Carefully slide it off while still keeping the "shape" of it intact. Cut a small piece of yarn and place it underneath.
 Tie a knot in the yarn as tight as you can without breaking it right in the center of the yarn clump.

Put your scissors inside the yarn loop on each side and cut (I forgot to take a picture of this step with the black one, hence it being a different color).
Trim any crazies off to make a nice, even pom-pom.
 Repeat for the other colors.
 Use a glue gun to secure a pom-pom on each finger.
 Add the wiggly eyes using the glue gun. I chose to put an increasing number of eyes on each little monster to incorporate some one-to-one correspondence.
All done and ready to play!
I made up this song (to the tune of Five Little Ducks). I spent all of about five minutes and I fully realize that I don't have a future as a lyricist.
Five little monsters went to play
Across the yard and far away
Mama Monster yelled really loud
"Little Monsters, come back now."

(Repeat with numbers 4, 3, 2, and 1)

No little monsters came back then.
What could they be hiding in?
Mama Monster checked the yard
Five Little Monsters were playing hard.
Looking for more ideas? Let your child count the eyes on each monster and identify each color. If all else fails, monster tickles with this glove are loads of fun!!!
This might have to permanently remain in my camera bag when we're not using it, come to think of it. It would be a great way to snatch some smiles when trying to get a picture!
*If using this activity glove with younger children, make sure you are supervising at all times. The wiggly eyes could come off and become a choking hazard.