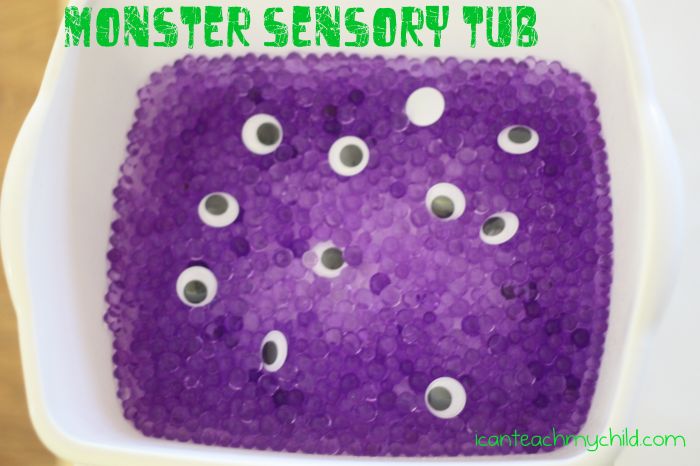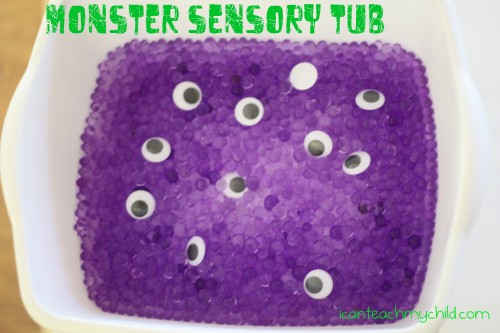 This was definitely our favorite sensory tub yet! Even I enjoyed digging around in it! We used water beads, which I first learned about from my friend Julie's blog. She found the idea on Play At Home Mom. These little water beads are the absolute coolest things! They are water-retaining polymers that keeps their shape and are slippery to the touch. They are non-toxic (though you need to supervise at all times since they could be a choking hazard–so don't do this activity with children younger than 3) and can be used again and again. Just store in an air-tight container and add a little water the next time you want to play with them. Some (like mine) come already hydrated and others you'll need to add water and let them "grow" for a few hours. You can find them in the floral department of most stores and usually run a couple of dollars (or you can find the kind that you add water to here). A few dollars well spent, mind you!
For a little monster fun, I threw in some large wiggly eyes, which we received for free from Craft Project Ideas.
Having tons of fun in the water beads!
In case you're wondering…they don't stain your hands or your clothes (at least this brand, anyway).
Have you tried water beads??? If so, what did you think?