Big Brother got a kick out of making this card! The real surprise came once he began painting it!
Here's what you'll need: white cardstock, a white crayon, a paintbrush, and some paint.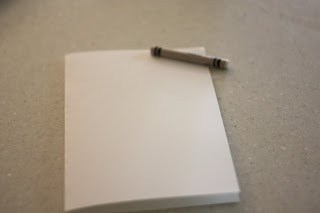 1. Using a white crayon, write a "secret message" on the cardstock. I didn't make mine as "thick" as I should have, so it didn't show up as well. Make thick lines and press down hard when writing.
2. Let your little one draw on it as well. This was really frustrating for Big Brother because he couldn't see what he was drawing!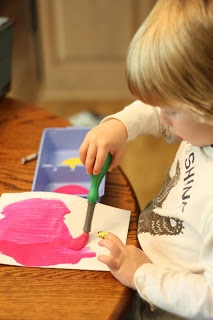 3. Add some paint (we used tempera paint).
4. Blot excess until you see the images suddenly appear! It's MAGIC! ;)
See?
All done!
Literature Link:
Mommy Hugs
by Anne Gutman
I love reading this short board book to my babies, especially since every page gives me an excuse to hug them! "Mommy monkey hugs her baby with a tickle…" is our favorite! Equally as wonderful is the companion book,
Daddy Kisses
.