Gift Card Bouquet for Mother's Day!
The two places my mom loves for an extra special treat are (1) Sonic…we are obviously related and (2) On The Border. One of the ideas in Family Fun Magazine this month was to make a gift card bouquet. Rather than making paper flowers (as the magazine suggested) or making my own felt flowers, I used some pre-bought felt flowers with clips from Michael's (I was lazy). But you could use this tutorial for felt roses and then just hot-glue a clothespin on the back!
Here's what you'll need: a flower pot, paint, craft sticks, flowers (paper, felt homemade, or bought), green "stuffing", hot glue gun, and GIFT CARDS!
(I thought I had pictures of us creating the butterfly on the flower pot, but apparently I don't. Handprints dipped in paint facing outward with a painted "body" in the center. Pretty simple.)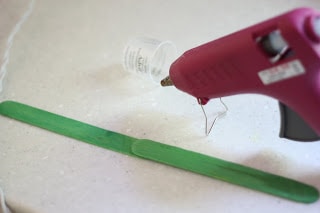 1. Paint the craft sticks green (if necessary…mine were left over from Christmas and already pre-colored). Hot glue two craft sticks together.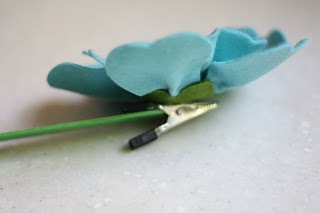 2. Hot glue the flower clip onto one end of the craft stick.
3. Clip gift cards on.
I didn't have any green stuffing, so I just put a bowl in my shredder and shredded two pieces of green scrapbook paper.
Worked like a charm!
4. Place the "stems" and stuffing in the pot.
Ain't she purty??? I think I might like one of these!