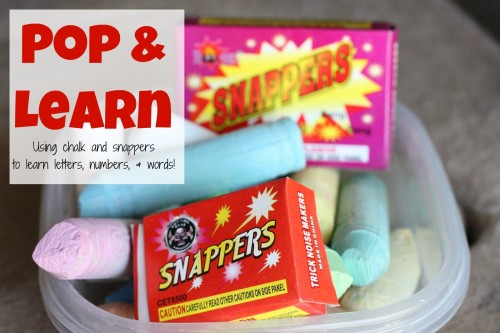 Here's an activity for those leftover poppers from July 4th. Or perhaps you like to hit the firework tents the day after like I do for the great bargains! After all, who says you can't throw some learning in with fireworks?!?!
Big Brother LOVED this fun game! It can easily be adapted for whatever skill you are currently working on with your child…shapes, colors, letters, numbers, or even sight words!
Obviously, be sure you read the box carefully and follow all safety precautions. Do not let babies or toddlers who still put small pieces in their mouths near.


Here's what you'll need:  sidewalk chalk and snappers/poppers (the cheap-o things you can buy at the Fireworks stand that just make a popping sound when you throw them on the ground…I've always called them "poppers" but the box says "snappers").


1. Using the sidewalk chalk, draw the shapes/letters/numbers/colors on your driveway.
2. Open a box of snappers (aka poppers) and let your little one throw them on the shape that you call out. Or let him/her call out the shape! And yes, Big Brother does have his shirt on backwards. He dressed himself. I'm not complaining!
We popped 'n learned with numbers too. :)
Little Brother joined in the fun by picking up the used ones and saying "POP!!!"
What kinds of fun things do you do with leftover fireworks???