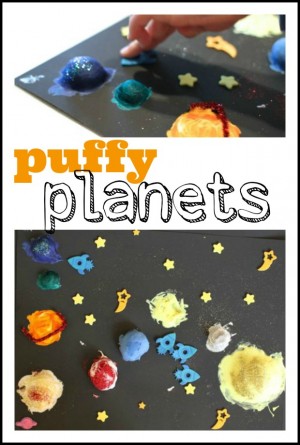 We're still fascinated with Outer Space at our house and we even took a day trip to a space museum a few weeks ago (which both of the boys LOVED). In addition to our Outer Space Playdough, we continued learning about the planets by making our solar system using the same concept as our puffy snowflakes! It was definitely a messy hit with both boys…and they love being about to touch the final product!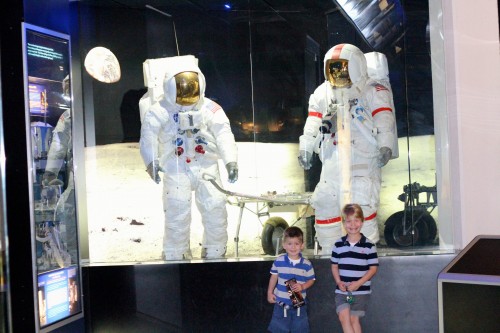 Here's what you'll need:  black poster board, shaving cream, liquid glue, food coloring and/or paint (I used glow-in-the-dark paint, but it doesn't really glow in the dark), a paintbrush, craft sticks (not pictured), and glitter (not pictured). Optional:  Glow-in-the-Dark Foam Stickers .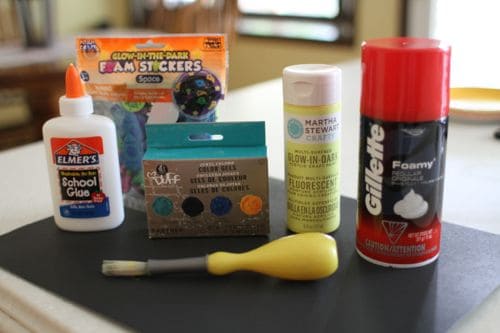 1. Mix shaving cream with your liquid. I usually do 3-4 parts shaving cream to 1 part glue.
2. Mix in your paint or food coloring. Use a craft stick to stir.
 3. Use a craft stick to place the shaving cream mixture on your black poster board.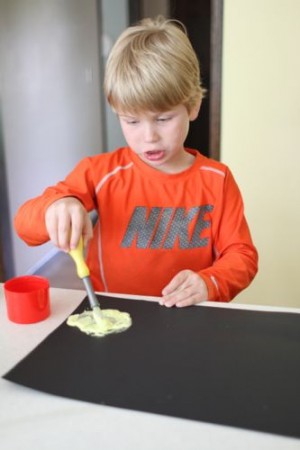 4. Continue with various colors to make the planets. The sun is on the far right. We ran out of room, so we had to go vertical. :)  For Saturn, we used a piece of pipe cleaner to make a ring.
The shaving cream mixture will dry puffy!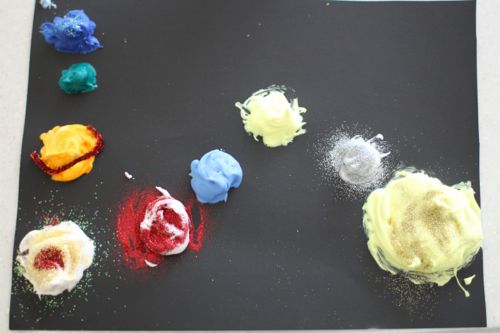 5. Add some glitter!
6. Let it dry for at least several hours…we let ours dry overnight.
 7. After everything is dry, add the Glow-in-the-Dark Foam Space Stickers (optional).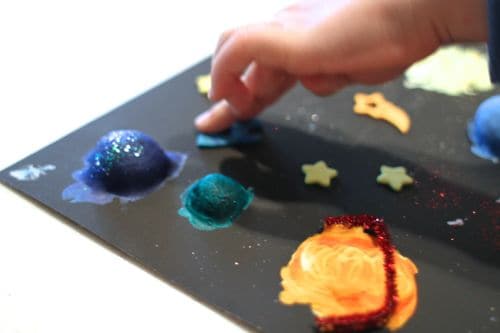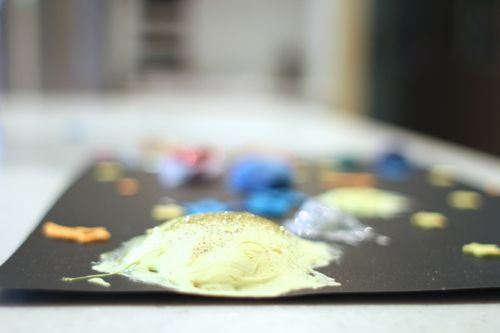 All done!
Literature Link: 
Space:  For kids who really love space!
This nonfiction book is an absolutely perfect way to encourage a child's fascination with space using real facts and information. The book is filled with engaging pictures and just enough facts about the planets without being too overwhelming for young children. This is the perfect nonfiction read for any future astronaut. :)
National Geographic Angry Birds Space
My sister-in-law bought this book for the boys since they are both Angry Birds AND space fanatics. It is filled with really great information alongside the Angry Birds characters. The illustrations are actual photos of space with overlays of the Angry Birds to make it a little more fun and interactive. It is very similar to Angry Birds Playground Book on habitats (that we also have and love).
What is your child's current fascination? How do you use your child's interests to guide your activities and learning?