Semi-Safe "Sword" Fighting
I honestly believe that pretend "sword fighting" must be programmed into the DNA of boys. I don't recall either of my boys ever seeing this on TV, so I'm just blaming it on the Y chromosome. The same is true for picking up sticks and "sword fighting" with sticks. This happens every.single.time we go outside!
I told you last week after the
Caterpillar Counting
activity that I would be sharing additional uses for the foam pool noodles. This is activity #2. After using about 2/3 of it in the
caterpillar counting
activity, I just cut the remaining in 2 pieces to make pretend swords. They are about 2 feet long and are just long enough to play with and just short enough so that they won't knock lamps over. :)
The boys Big Brother had fun playing with the pretend swords! Here they are playing together.
Little Brother wasn't so sure…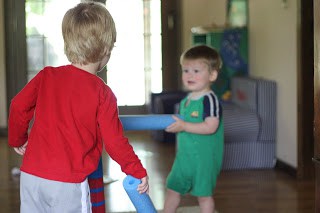 And invariably, this had to happen…
Which then led to this…
Which led to the "swords" being put away. Next time we'll be laying some "ground rules" for our pretend sword fights!