Simple Sorting for Young Toddlers
Guest Post by Mariette of Mariette's Meanderings
Toddlers learn so much from just living and playing! If your toddler is anything like mine, they also like simple tasks and activities that they can feel successful at accomplishing. Aside from puzzles, shape sorters, and stacking rings, here are some of our favorites! When we have had a stretch of time at home, I often quickly pull together an activity to engage Little Roo that happens to introduce her to a learning concept or skill. Most of these activities were thrown together from items around the house (even better, in my opinion!).
Basic Color Sorting 
 Our first color sorting activity, I took shapes from a shape sorter and corresponding colors of cardstock and showed Roo how to make matches. We use stacking cups and pom-poms for a similar activity.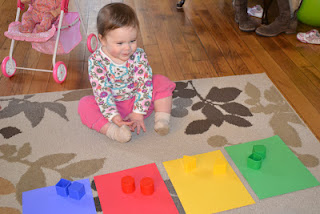 Freight Train Cut and Match  I had made felt train cars inspired by Donald Crew's book Freight Train. There was a stack of magazines about to go in the recycling bin. I decided to cut out vibrant colored objects from the magazines and have Roo place them in the train car of the same color. Older children, who have experience with scissors, can help find and cut the pictures themselves.
Buttons or Pom-Poms and an Egg Carton
  Roo opened a drawer of scrapbooking supplies and pulled out a small container of buttons. I rummaged around to find an empty egg carton. I let her explore on her own, and wouldn't you know? She placed one button in each opening! How's that for one-to-one correspondence?! You can also put colors or numbers at the bottom of each egg holder and have your child sort colored buttons or pom-poms or when they are older count and place the corresponding amount in each spot. (Make sure your child is no longer placing items in their mouth if you are going to use buttons or pom-poms or just watch them very closely!)
Animal and Book Matching
  I noticed that the set of little 
plastic animals
 we own coordinates with some of Little Roo's 
chunky animal books
. We match them, placing the animal on top of the book. This is a perfect activity to throw in the diaper bag, we pull it out while waiting at a restaurant or doctor's office (5 small books and 5 plastic animals have a lot of playing potential and since the books are small they aren't too cumbersome!). We also find other animals in books to match with animal toys. If you don't happen to have books that match, you can print photos to match with any of your animal toys.
Roo (now 20 months) loves to complete these tasks. What toddler doesn't like to clap for themselves?? She learns so quickly and amazes me everyday by how much she has learned and changed in her short 20 months of living! I look forward to spending more time with her and finding teachable moments in her every day play!
Mariette is a former teacher, now stay-at-home mom to a little girl who is now 20 months old. She enjoys applying what she knows about how young children grow and learn to her daughter's every day life! You can find her over at

MariettesMeanderings.blogspot.com

.