How to Teach Kids To Tie Shoes
This post was first published Aug 2013. Updated 2018.
How To Teach A Child To Tie Their Shoes
Teaching a child to tie their shoes has got to be one of the most frustrating tasks for a parent of preschool or school-aged children (or maybe it is just me). I think I would much rather potty train a toddler than attempt to teach a five-year old how to tie his shoes.
Okay, perhaps that's a little bit of a stretch…but it is tough work.
Although this task is very important if your child attends school outside of the home, it is also very important for their self-help/adaptive development. We could just buy them Velcro shoes for the rest of their life (and believe me, I've considered it), but at some point your child will need to know how to tie a simple bow knot.
I've been working with Big Brother for a couple weeks now (here and there). Although he hasn't mastered the skill quite yet, he has made a lot of progress! I am far from an expert (I have yet to successfully teach a child quite yet), but thought I would share a few tricks we've learned along the way (and also some helpful suggestions from my wonderful readers).
Shoe Tying Tricks
1. Start 'em Young
No, no, no…I don't mean to break out the shoelaces with your 2-year old and begin practicing. Shoe-tying requires precise fine motor control, which is difficult for many young children. When your child is a toddler, begin working on activities that require your child to use the small muscles in his/her hands. As she progresses through her development, continue presenting challenging fine motor tasks. When the time comes that your child needs to learn to tie her shoes, she'll have lots of opportunities to develop those small hand muscles!
Looking for more fine motor activities, check out our Fine Motor Pinterest board.
2.  Be Patient 
Teaching kids to tie shoes is tough. They probably won't "get it" the first, second, or even twentieth time that you show them. Hang in there…your child won't be graduating high school still wearing Velcro shoes. It will happen at some point.
3. Give Lots of Praise 
Celebrate the small steps. Once your child can complete the first step (crossing and pulling the shoelaces), praise him/her for their hard work. Turn on some fun music and make shoe-tying practice a fun and enjoyable time!

4. Work on Learning To Tie Shoes for 10-15 minutes at a Time  
I made the mistake of working with Big Brother for an hour one day. I gave lots of praise and he made a lot of progress, but he was done with learning to tie shoes by the end. Splitting it up into smaller increments makes it much less frustrating for your child (and you).
5.  Start Big
Several people on my Facebook page shared that they first taught their child how to tie a bow using a jump rope underneath both of their legs. Once they mastered the skill on a larger scale, they then let him/her try it using shoelaces.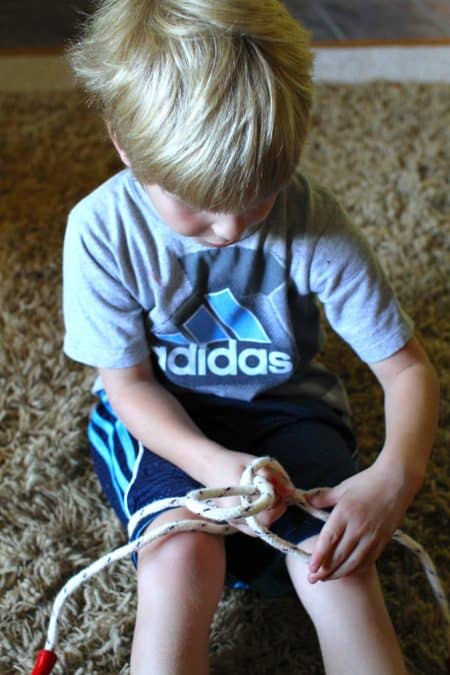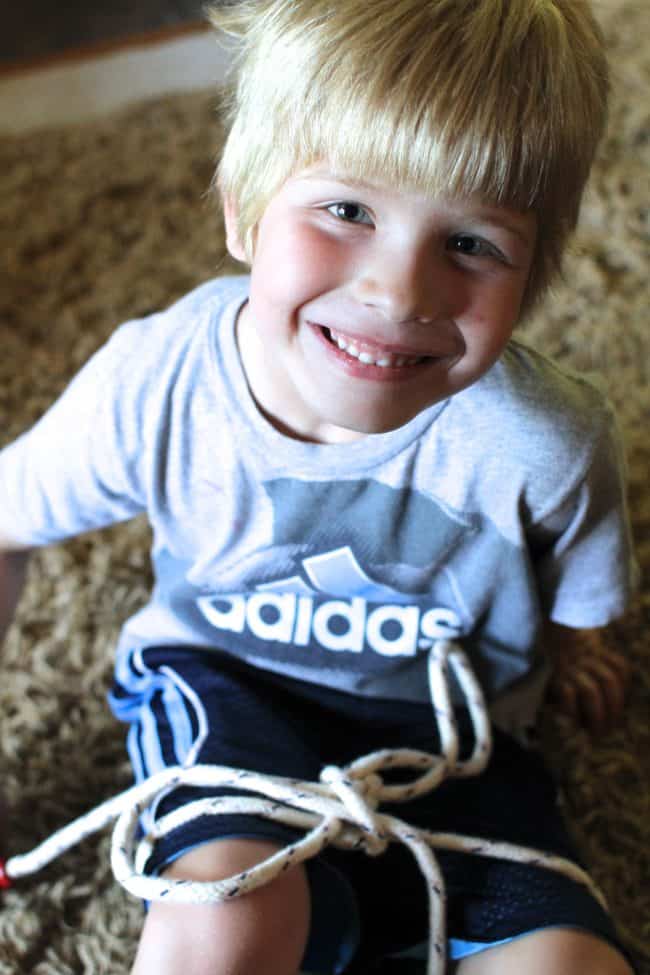 6. Get the Right Laces
Use flat, long laces to teach kids to tie shoes. The rounded laces are sometimes too difficult for little fingers to manipulate.
7.  Don't Lace the Top Holes on Your Shoe 
I've found that most shoelaces are just a tiny bit shorter than what is easiest for kids to tie. Remedy this problem by lacing only to the second holes from the top of the shoe. This will give just a little bit of extra length for your child to work with.
8. Mark and Make a Knot in the Laces
I learned this from the Magical Molly video  (although we simplified and adapted it quite a bit), I just marked the laces with a Sharpie where the first loop will be made and then then made a knot where he will pull it through the hole.
More Resources To Teach Kids To Tie Their Shoes:
Magical Molly Shoe-tying video resource for parents
Easy Shoe Tying Video (this looks GREAT and super easy for little kids but we had already started working on tying shoes using the loop and swoop method, so I didn't try this with Big Brother as not to confuse him).
Melissa & Doug Wood Lacing Sneaker:  We don't personally have this, but many people have suggested it to introduce a child to the concept of lacing and tying shoes. It is basically just a tool to practice without having to put a shoes on your child's feet.
You May Also Be Interested In:
Goal Setting For Kids (free printable)