In my post on Apps for Preschoolers, I admitted that I have really fought against my kids using the iPad/iPhone. I finally conceded for a variety of reasons, but mostly because I want to use technology as a tool for helping my kids learn (within reason and with time limitations, of course). I had several people ask if I would share apps for kids of other ages (besides preschool), so I thought I would start with the only other age of child I have–a toddler! I have compiled our top 10 apps for toddlers below. Seven of the apps you must purchase and three of the apps are free!
Although I am sharing with you these apps that I have found beneficial, I want you to remind you to exercise extreme moderation with how much time you let your child sit behind any screen. Hands-on, creative learning will ALWAYS trump electronic learning (in my opinion anyway). I encourage you to use these apps as a tool for no more than a few minutes at a time.
Paid Apps
1. Peekaboo Barn (iPhone or iPad–$1.99) This is a very simple app for young toddlers than introduces a child to animal names using a peek-a-boo format in a barn (hence the name). The animal name is said by the most adorable toddler voice. The animal does make a sound right before its name is said, but it is much softer than the name so it is difficult to hear.

2. Signing Time ASL (Compatible with iPhone, iPod touch, and iPad–$4.99) We taught both of our boys sign language, starting when they were about 9 months old, and I personally think it makes a big difference for a child's language development. We checked out a few of the Baby Signing Time DVDs occasionally from the library when our boys were little (before iPads/iPhones) and this is the same company who created this app. The app includes 48 words and their corresponding signs.
3. Learn to Talk (Designed for both iPhone and iPad–$1.99) This app would be appropriate for very young toddlers who are just learning to talk. The app includes several commonly said words or phrases along with a picture illustration for each word/phrase. If your child has any language delays, this might also be a helpful app. It is relatively simple and not overstimulating.
4. Shape-O ABC's for the iPad ($1.99) and Shape-O ABC's for the iPhone ($1.99) This app is lots of fun. It comes with several templates for various "puzzles". Your child slides the individual pieces to complete the puzzle. There are also letter tiles at the bottom of each puzzle that spell the object (which is obviously too mature for toddlers, but would be great for preschoolers as well). This is one of my 2-year old son's favorite apps.
5. TallyTots (Designed for iPhone and iPad–$2.99) This app is super cute and is great for one-to-one correspondence and number recognition (which is developmentally appropriate for older toddlers and preschoolers). For every number, there is a different task. On Number 1, the child has to turn on ONE lightbulb (by holding it down). Other tasks include: blowing bubbles, watering the flowers, watching the mice run, etc.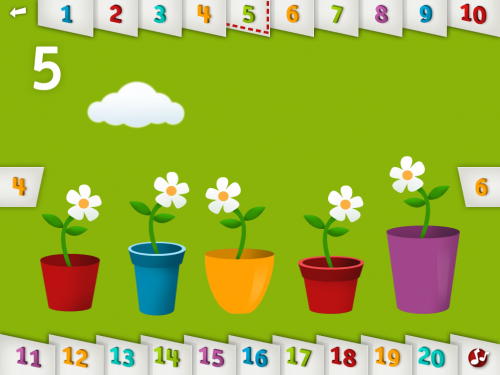 6. Memory Train (Designed for both iPhone and iPad–$1.99) This is an excellent app for visual discrimination! The child must watch as the train passes by a certain object and then a few seconds later recall the color, face, etc. by choosing between three options. As the child gets more correct answers, the train speeds up and the recall images get a bit more complex. This just might be my favorite app on the list!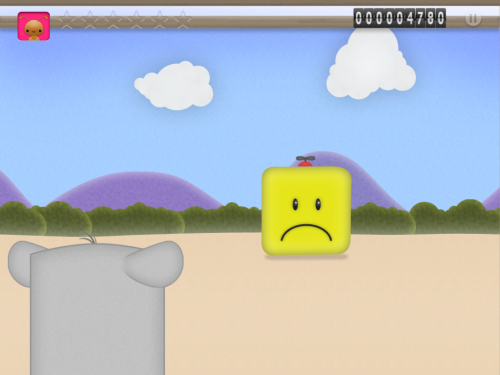 7. 123 Color (Designed for both iPhone and iPad–$1.99) This app is basically a digital coloring book. Children can choose the image that they would like to color and then select the colors. The app tells the child the color name whenever they switch colors. It also includes other options such as alphabet and number practice. Overall, a fun app that is much tidier than a coloring book and markers (although those are still important to play with as well)! :)
Free Apps
8. Jellytoon's Toddler Skills: Bobo's Birthday Challenge for iPad and Jellytoon's Toddler Skills: Bobo's Birthday Challenge for iPhone This app starts off with a cute little intro on Bobo's birthday , however if you accidentally close the app, you must go through the whole 15-second intro again…a little irritating, but nothing to get too worked up about. Each of Bobo's friends have their own games, some that incorporate fine motor control, some one-to-one correspondence and number recognition, and still others that require sorting and visual discrimination. Overall, a great app! I would definitely download this app while it is currently free!
9. I Hear Ewe (Designed for both iPhone and iPad) This app is basically a library of different animals and modes of transportation. When the child clicks on an individual animal/car, it makes the corresponding sound. I believe there is a strong correlation between animal sounds and the language development of young toddlers, which would make this app an obvious choice for parents of toddlers!
10. ABC Alphabet Phonics (Designed for both iPhone and iPad) At first glance, this app is pretty basic. The app tells the child to touch a certain letter and praises him/her when doing so. If you go into the settings, however, you can turn on the entire library of options: uppercase letters, lowercase letters, animals, etc. to grow with your child. This app is good for introducing letter names to your toddler.
Not reviewed, but recommended by readers:
Endless Reader
Endless Alphabet
Endless Numbers
My PlayHome
My Little Town
Lazoo ZOO
ZOOLA Animals
A FINAL WORD: Please remember that iPhones and iPads are just like computers–meaning that you must be vigilant about ensuring your child isn't exposed to any inappropriate content. SecureMama shares a step-by-step guide for ways to secure your iPhone or iPad. Read and implement these suggestions!
What is your favorite app for toddlers???
*Please note: The links in this post are my affiliate links. Please read my full disclosure policy.