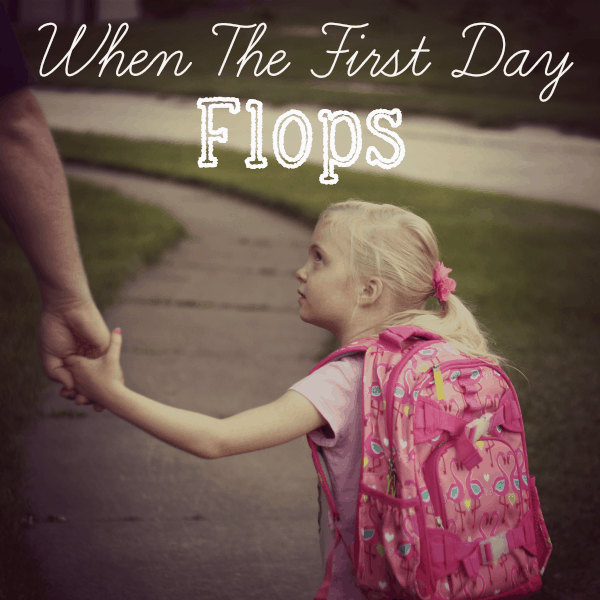 Post by Contributing Writer Amy
This was it. The first day of school ever for my twins.
For the last year and a half, I'd been talking to other parents about preschools, researching schools, and visiting schools all while weighing the pros and cons of each. I was a teacher before they were born. I loved school and was so excited for them to love it, too. We'd read all the first day of school books, new clothes were laid out, and brand new backpacks were setting by the door with shoes neatly paired up next to them. First day of school, here we come!
After finding their cubbies to hang up their adorable little backpacks, I could barely get a hug or kiss because they were so focused on feeding the class bunny. "That's great!" I told myself. "They are so ready for this. It will be great." I steeled myself and walked out of there, leaving my babies in the care of people I barely knew.
Then it happened.
At pick up time, the hugs and excitement I hoped to share only came from one. The tears from her sister started almost the moment she saw me. They didn't stop. On the drive home, it became a family event. Both girls started sobbing and wailing. They detailed every single thing that was horrible about school. They never wanted to go back. It was "the baddest school in the world." Even their two year old sister joined in and cried, "Me no go dat school!"
Oh. Lord. What do I do with this?
Do I empathize? Do I try to list out all the positives? Stop for ice cream? Just cry along with them like I feel like doing? How could I, as a mom and teacher, have failed so badly to prepare my kids for what should have been an exciting and wonderful day?
That night I laid in the dark, defeated, still wondering how it all went so wrong. What did I miss? Did we chose the right school? What do I do now? My husband climbed quietly into his side of the bed and could tell I was still awake. He took my hand and his soft voice whispered truth straight to my heart.
"I am proud of our girls. And I am proud of you."
That's when I knew.
My girls don't need to hear how preschool was the best thing ever. They don't need a million reasons why they should love it. Most importantly, they don't need to think that their feelings are wrong or unacceptable to me. All they need to know are the simple truths:
Change is hard.
I'm here for you.
I'm proud of you.
I love you.
This first day flop, which seemed so devastating to all of us, is actually a blessing. It's only the beginning of a life story that can help define who they are. It will be told over and over whenever they need reminding that life is hard, but they are good at hard things.
Remember how scared you were after the first day of school? Remember how much you didn't want to go back? Remember when you went back again anyway? You were brave and did something hard no one else could do for you. YOU did it. You didn't give up, even when you were nervous and scared. You didn't give up when it seemed too hard. That's one of the many reasons I'm so proud of you.
As our children grow, our jobs as parents grow, too. We can't stop crying with warm milk and snuggles, kisses won't erase hurts, and a night light won't chase away fear. We can no longer to fix the problem, but what we can do is so much greater. As our children grow, we can keep reminding them who they are and to Whom they belong. "The LORD himself goes before you and will be with you; he will never leave you nor forsake you. Do not be afraid; do not be discouraged." – Deuteronomy 31:8
Do I still think the first day was a flop? No. I could never call an opportunity to grow as parent and point my children back to their Father a flop.
---
If your child's first day of school is a flop, here is my advice:
Accept your child's feelings as they are. Remember that it's not about you, and you don't have to fix it.
Tell stories about themselves when they were little and had trouble with something they are good at now.
Tell a story from your own past of overcoming fear or disappointment.
Read books about overcoming challenges such as: Rosie Revere, Engineer, The Story of Ruby Bridges, or with the Olympics just behind us, Wilma Unlimited.
Give lots of hugs, kisses, and extra one on one time to reinforce the fact that even though big changes are happening, your love is constant.
Spend some extra time talking at bedtime. Most kids are ready to open up in the dark, especially if it means extending bedtime.
Pray for them and with them.
Hang in there! You've got this!
Amy is a former reading and third grade teacher as well as a mother to three little girls with big personalities. She believes joy can always be found in playing, learning, and ice cream.