Big Sister or Big Brother Gifts to Give Older Siblings at the Hospital
I remember when Little Brother was born, I couldn't wait for Big Brother to come visit us at the hospital. Like most things, the idyllic pictures in my head did not prove to be reality…but instead the memories are so much more real messy (and precious). This was Big Brother's reaction to meeting his little brother for the first time…
The face says it all, doesn't it?!?! He is clearly not impressed with this "big brother" business. :)
When I really start to think about it, meeting a new sibling totally rocks a child's world. Everything your child knew from just moments before completely changes (eventually for the good, but all change is hard). Even the sweetest-natured kids (like my precious firstborn in the picture above) have a hard time adjusting to things being different and no longer being the center of attention.
My goal as we bring Baby Sister home in February is to make the boys feel as involved as possible…and reassure them of our love in as many ways as we can. One simple way to do this is to give them a gift at the hospital when they come to meet their little sister. After all, becoming a big brother is a big thing to celebrate!
There are so many cute ideas for big sister gifts (baby dolls and accessories, jewelry, etc), but very few practical yet meaningful big brother gifts.
Here are a few gift ideas that we've come up with that could be used for big brothers or big sisters:
Big Brother or Big Sister Gifts From Baby:
1. On the Day I Was Born Photo Book
I found this idea from Life As You Blog It (via Pinterest). You can buy Stacey's template, but you'll need Photoshop (either the full version or Elements). I don't have Photoshop on my computer (and didn't want to pay $125 EACH to have her create our books), so I just used the design section of PicMonkey.com to create pages similar to those from the templates using our photos (you'll just make a 2400 pixels x 2400 pixels square and then add text and images). I'll be honest, it took me a really long time…but the end product is totally worth it!!!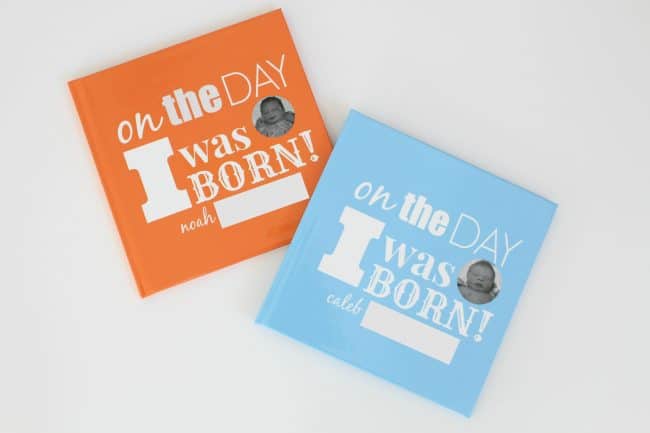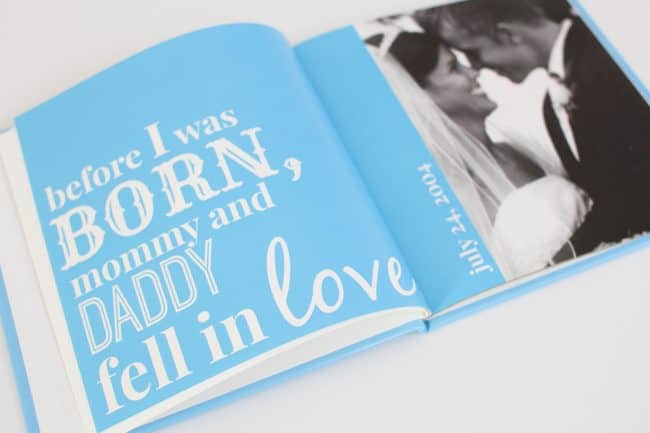 2. Picture Puzzle
I used one of the pictures we took of the boys announcing the news of the upcoming arrival of their sibling and had it made into a 25-piece puzzle. Little Brother will be especially excited about this gift as he is very into puzzles right now! And I love that the puzzle is simple enough that they can put it together themselves!
3. Digital Camera
I bought a used digital camera on Craigslist for Big Brother for less than $20. This way he can take his own pictures of the baby and anything else he wants to capture!
4. Big Brother or Big Sister T-shirts
There are so many cute big brother/big sister coordinating outfits available (especially on Etsy). I actually opted not to purchase "big brother" t-shirts this time around because I didn't want to spend $60+ on matching t-shirts/onesies and only have them wear them a couple times. Instead, I'm packing some pink shirts the boys wore for Easter last year.
5. Books about Becoming A Big Sister or Big Brother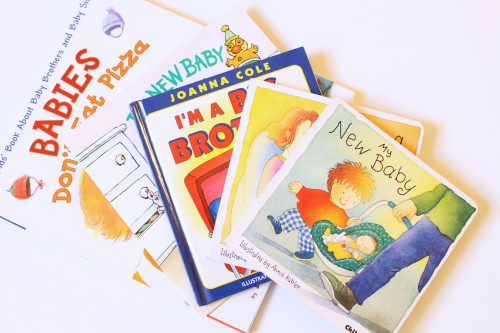 This is an especially good idea if you have a toddler who is becoming a big brother or sister.
These are our favorite sibling books:
Babies Don't Eat Pizza by Dianne Danzig:  A great choice for older siblings (4 years and older)
I'm a Big Brother or I'm a Big Sister by Joanna Cole
The New Baby by Mercer Maye
More Gift Ideas:
Best Bible Story Books for Toddlers & Preschoolers
5 Best Board Games for Young Children
How to Keep Older Siblings Busy while You're Tending to the Baby
When Little Brother was born, we gave Big Brother several Melissa & Doug puzzles (he was 22 months at the time). You could also put together some busy bags to give to your child or color wonder sets . Having something new and exciting that will keep him/her occupied will be a blessing for everyone as your meeting the demands of a newborn.
Simple Busy Bag Ideas for Younger Children:
What gifts have you given to an older sibling?