Best Board Games for 3 Year Olds & 4 Year Olds
This post was first published April, 2012. Updated 2019.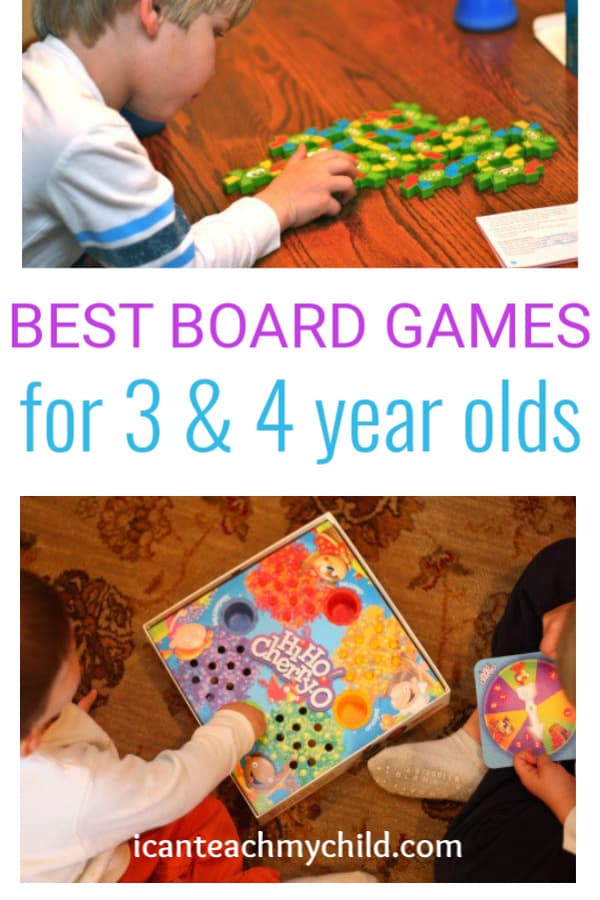 Why Play Board Games With Young Children?
There are so many great reasons to play board games with your child(ren)!
1. Time With Your Children
First of all, board games allow you to spend quality, intentional, and uninterrupted time with your children. In this world filled with constant distractions and Facebook beckoning for our every waking moment, it's easy to try to multitask while spending time with our kids. Chances are that by diving into a board game, you are committing to playing until that game is finished.
If you're playing Chutes and Ladders, which is a game that never. seems. to. end., finishing a game might not be doable…which is precisely why it wasn't including on our list! :)
2. Improve Social and Emotional Development
Second to quality time together as a family, children learn how to take turns and be graceful losers when playing board games. Playing together offers the perfect time to demonstrate to your child(ren) how to be a good sport. It is easy as parents to want to let our children win every single time we play because we don't want to harm their fragile self-esteem. That is the absolute worst thing we can do for our kids. There is a time for winning and a time for losing… children should frequently experience both to learn how to handle the triumphs and disappointments that will inevitably come later in life.
Big Brother (4 years) is extremely competitive. He gets angry when he loses at anything…or at least he used to. Playing together as a family has offered us a perfect opportunity to teach him how to handle his feelings of disappointment in a positive way. Now, he will usually (though not always) shake hands after he has lost or say, "good job" because we have coached him during the times of playing together as a family.
3. Encourage Cognitive Development
Finally, board games are excellent for your 3 or 4 year old's cognitive development. Even the simplest of board games includes some type of strategy as well as counting, color recognition, matching, and more! Children learn best when they are engaged and having fun. Board games offer exactly that!
Related Post:  Best Toys For Toddlers
Here are just a few of our favorite board games for young children. Please note, this is not a sponsored review. We are simply sharing our experience with our favorite board games in age order.
Our Favorite Board Games  For Toddlers
Think your toddler is too young to play board games? Think again! This simple board game for toddlers is a wonderful way to introduce games to your little one.

There is a large plush die with a different color on each side is tossed. The child then chooses the corresponding color of card and must perform the action on that card.

My favorite part of this game is the cards. There are six colors:

Red:  Action Cards. Example:  Do a silly dance.
Yellow:  Emotions. Example:  Make a sleep face.
Purple:  Body Parts. Example:  Rub your belly.
Green:  Animal Sounds. Example:  Roar like a lion.
Orange:  Counting. Example:  Clap your hands eight times.
Blue:  Colors. Example:  Find something blue.

You can play this in a group and take turns or you can just let your toddler play again and again…either way, it's an excellent first board game for toddlers!
          The only downside? Older kids might get bored after a while.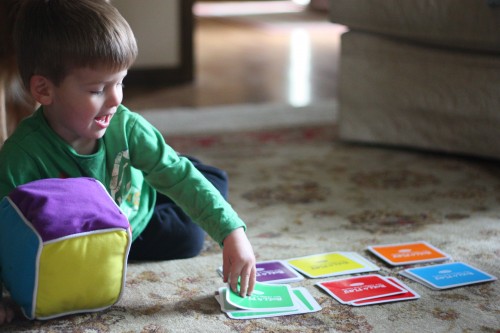 Board Games For 3 Year Olds
Zingo ::  A Board Game For Ages 3 and Up

Zingo

is, by far, Big Brother's favorite game to play. Our game has been so well-loved…so much so that there is a hole in the box! It is simple to understand and tons of fun for the whole family! Rather than winning by having a certain number in-a-row like regular Bingo, in Zingo you have to fill the entire board to call out "ZINGO!"

The game comes with durable cardboard Zingo cards as well as plastic chips that are housed in an equally impressive "chip distributor".

It is also great for matching pictures to text, even though your child will do it subconsciously. Children younger than 3 can usually pick it up (especially if they have older siblings), but they'll need lots of guidance.
We have a winner! He's calling out "ZINGO!"

We only have the original

Zingo game

, but they also make

Zingo 1-2-3

(that teaches number recognition and one-to-one correspondence) and

Bilingual Zingo

 (which is in both English and Spanish).
Hi Ho Cherry-O : Board Game For 3 Years and Up

Hi Ho Cherry-O

has been one of our go-to games for a while now. An entire game can be played in about 5-10 minutes. I love how this game teaches color recognition and one-to-one correspondence while simultaneously encouraging

fine motor development

as your child has to carefully place the small pieces of fruit onto the game board. This game is also perfect for introducing turn-taking to your young child.

This board game for 3 year olds comes with the game board, baskets that are inserted into the game board, a spinner, and the individual pieces plastic of fruit. Each person will take turns spinning the spinner and adding the specified number of cherries (or other fruit) to their basket

The downside? The tiny pieces that go with

Hi Ho Cherry-O

get lost

easily

 (which is why you'll want to put them in a baggie ASAP) and can be dangerous to children who still put small objects in their mouths. The quality of the game board could be better as well.
Board Games For 4 Year Olds
The Ladybug Game ::  A Board Game For 4 Years and Up 

The Ladybug Game

is near and dear to my heart because it was actually invented by a first grader (the grade that I taught before staying home with my two boys)! I love how this game blends fun with learning about ladybugs (what they eat and who preys on them) as well as lots of counting practice. The box says it is appropriate for ages 3 and up…but I would suggest it for kids 4 or older as there is quite a bit of components to this game that could get confusing.

It is a typical board game with various colors of ladybugs for the markers. Each player must draw a ladybug card and then follow the directions on that card (either move a certain number forward or a certain number back). Some cards even have a little ladybug at the bottom that means you get another turn, which you have to be paying close attention to notice (oops). Then there is another component of collecting aphid cards to use just in case you land on a certain spot.

The only downside?

The Ladybug Game

can take a while to finish (still not anywhere near as bad as Chutes and Ladders) and can get confusing if you don't pay close attention to each of the components.
Board Games For 5 Year Olds
Bug Trails ::  For Children Ages 5 and Up (or modified for younger children)
Bug Trails

is a domino game with a twist! We really enjoyed playing this board game and I think it is one that will easily grow with our family! We modified the game slightly to make it simple enough for Big Brother to play. As the boys get older, however, we'll be able to modify it to make it more challenging. This would also be a fun board game to play with another family!
What I really like about
Bug Trails
(rather than just plain old dominoes) is the fact that there is more strategy involved. Each bug has six legs. You have to try to match the color of at least one of the legs of your bug to one of the bug pieces already played (if you have older children, there will be "flag" that you'll use so that the next player can only play on that particular bug…we skipped that to simplify the game).
If you only match one leg, you have to draw another bug from the bag. If you match two legs, you don't have to draw another. If you match three legs, you get to put one of your bug pieces back into the bug bag. The first player to run out of bugs wins!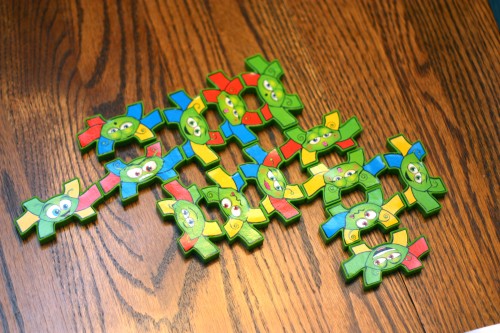 What are some of your family's favorite board games?