Best Children's Bibles for Babies To Preschoolers 2019
First published November 2012. Updated 2019.
One of our three Christmas gifts each year to our boys is either a new Children's Bible or a Bible Story Book. It is always so fun to curl up together and open the unturned pages in a new Bible for the first time. We have accumulated quite the collection of children's bibles since our first child was born nearly five years ago. I thought it would be helpful to create a list of the best children's Bibles for toddlers, & preschoolers (in my opinion).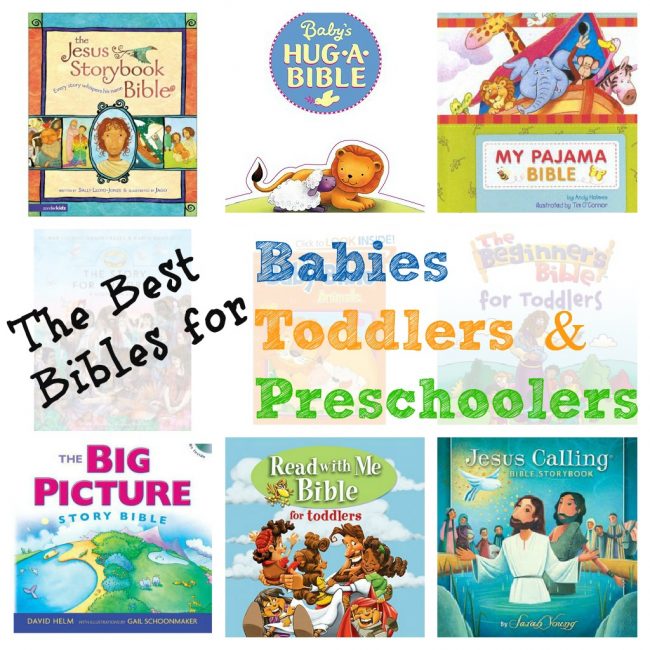 Bible Books For Kids
Yes, we own every single one of these children's Bibles I've mentioned below… and these are just the ones that I like and recommend! You might wonder:  Why do I need to have more than one children's Bible? Well, I'm not sure that you "need" multiple Bibles, but I have found that not a single children's bible includes all of the stories in the Bible (or all the stories I want to teach my children).
Obviously, an illustrated children's Bible book certainly could not…but I want my children to hear as much of the Bible as they can, which includes the many stories we find in the Good Book. As our children grow…so does their attention span and understanding of these stories so I think it important to have age-appropriate Bibles in our home.
Also, it is important to remember that each of these children's Bible is someone's interpretation. I am thankful for these interpretations, however, because they help my little ones yearn to grow closer and know God more from a younger age. They take the Bible and make it accessible and developmentally-appropriate for even the tiniest of children.
The Best Children's Bibles
Baby Bible
Even though babies will not understand or retain the baby Bible stories you read to them, I believe it is important for Christian families to make reading a Bible story a habit within days of welcoming your baby home. Here are just a few of our favorite bible story books for newborns through to early toddlers.
This children's bible is divided into 30 individual stories with 2 paragraphs each of rhyming text related telling each story. The rhyme and rhythm to this baby Bible make it the perfect read-aloud for babies. It isn't the best in terms of content (explaining the stories, etc.), but it is an easy, rhythmic read-aloud Bible story book.
This board-book baby Bible, much like The Pajama Bible, is written in beautiful poetry. There are only 10 stories included and they are relatively short (around 2 paragraphs each–perfect for a baby's short attention span). The Bible itself is large enough to hug and the entire book is covered with a snuggly, sheep-like fabric (which you can't see from the picture)! The emphasis of every story is on God's love for us. This is now my go-to baby Bible for baby showers and baby gifts!
This children's Bible story book is different than the other two recommended for babies in that it includes actions! The stories are simple and short and include at least three actions with every story (roar like a lion, pretend you are hammering, etc), making it perfect for babies 6 months and older. This was both of my boys' favorite children's bible well into toddlerhood! There are also gender-specific versions of the Baby Bible for boys and girls (although some of the stories are the same).
This sweet Bible story book is written by Sally Lloyd Jones (the same author of the Jesus Storybook Bible) and is great for interactive readers who love to lift flaps! Both Old and New Testament bible stories are included. I would suggest this Bible for babies from 1-2 years.
Toddler Bible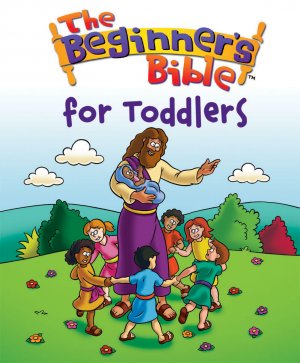 This toddler Bible is written in more of a narrative form (unlike the poetry and actions that characterized the baby bibles). Your child will be able to recall some details from these stories and will begin to get a sense for the lessons each toddler Bible story teaches us.
This children's Bible story book is perfect for wiggly toddlers who love to look at the pictures. With only 1-2 sentences on each page, toddlers will enjoy learning about the Bible stories through pictures and short narrative. With the exception of the Creation story (which is amazingly illustrated) the illustrations are much more caricature-like than any of the other Bibles (which may or may not appeal to you and your child). I personally prefer the illustrations of the other Bibles, but I know that this will appeal to my boys. There are 24 stories in this Bible (10 Old Testament and 14 New Testament). I ordered this Bible for Little Brother for Christmas. We haven't read it all together yet, but I did look through all of the stories and was really impressed how simple the content was while still capturing the essence of each story.
Preschool Bible
Would you think I was crazy if I told you that I didn't know how to the Bible "fit" together until I was in college and began an in-depth Bible study? I didn't realize that all of the individual stories I learned about in Bible Class (which I went to since I was a baby) all told about the same people, God's chosen nation of Israel. Nor did I realize just how much the Old Testament pointed to the coming of our Savior in the New Testament. Thankfully, my children will not have this void in their faith walk with the prevalence of children's bibles that tell the story of Jesus literally from the beginning.
This is my absolute favorite children's bible ever written (thus far). Sally Lloyd-Jones does a beautiful job of writing over 40 of the most important stories in narrative form,  including our need for a rescuer (Jesus) in every single story (even in the Old Testament). The illustrations are a bit more abstract, but still capture the essence of each story. If you are looking for ONE bible to read together as a family, THIS is the one!
This is another great kids Bible that points to our need for a Savior. The illustrations are very lifelike and the bible itself is rather large, making the title even more relevant. This bible is appropriate for slightly older children because it is not really "fluffed" like many other children's bibles. The Old Testament section of this Bible talks a lot about punishment and God's anger, but then again…that is a lot of what we read about in the Old Testament. Overall, it paints a very realistic picture of the stories in the Bible.
This preschoolers Bible is brand-new to us. I actually bought it for Big Brother for Christmas this year, so he hasn't gotten to read it yet. I have read several of the stories and I absolutely love the illustrations. At the end of every story, it has a "Jesus Calling" section with a scripture reference that emphasizes Jesus' presence as well as how we can apply the story to our lives ("I was there when Adam and Eve left the Garden forever"; "Sometimes in this world, you will have to suffer for doing the right thing"). My only complaint is that not all the stories are similar in length, which could be a good thing for using it with younger children and siblings.
The Story for Children by Max Lucado, Randy Frazee & Karen Davis Hill
This children's Bible is very similar to the Jesus Calling Bible Storybook. The illustrations are beautiful and are a work of art in themselves. The stories are relatively short and keep the attention of both of our boys. At the end of every story, there is a section called "God's Message" which encapsulates God's love and what He has taught the character in that particular story.
Children's

 Bible
This is an actual Bible with all 66 books and comes in the NIrV translation to ease young readers into being able to read the Bible on their very own. The NIrV is not my favorite translation, and certainly not the most reliable, but it is a great way to bridge the gap between children's Bible story books and the NIV, ESV, or even King James translations.
Christian Children's Books
These Christian books for kids are also worth checking out…
This parable for children, written by the author of Crazy Love, is a wonderful portrayal of how we function best when following the Bible, which God has given us as our "instruction manual for life." The story tells about a village who plows a field by having all of the villagers push and pull the tractor, not knowing that it could actually run by itself until someone finds the instruction manual in the attic. Just the like the tractor, we can achieve our true potential with God's help when we look to our instruction manual (the Bible)!
Some readers have described this book as Crazy Love for Kids. Herbert only does things halfway:  his homework, cleaning his room, and eating his dinner. He gets caught telling a half-truth and his dad teaches him that if he's going to live pleasing to Jesus, he's going to have to put his whole heart into it.
 This book is a tear-jerker (for adults, anyway). Ronnie learns about Jesus' great sacrifice in Sunday School and wants to give Jesus a gift. He tries to mail Jesus his coveted baseball glove, but the post office doesn't mail to Heaven. On his way home, he sees a man who is hungry and uses the money he brought for postage to buy the man a hot dog. Later on, he is jumping on his trampoline, trying to reach Heaven, when he sees his lonely neighbor boy over the fence. He asks his neighbor to jump on the trampoline with him. Finally, he buys a big balloon to use to fly his baseball glove to Jesus only to hear a little girl crying because her balloon floated away. Ronnie gives the little girl his balloon, but then feels badly because he didn't give a gift to Jesus. That night he has a dream where Jesus tells him that when he gave the food to the hungry man, his time to his neighbor, and the balloon to the sad little girl, Ronnie was giving a gift to him.
What is your family's favorite children's Bible?
*The links in this post are my affiliate links. Please read my full disclosure policy.
Click here for more children's Bible resources and activities:
Books of the Bible Activities for Kids
Proverbs 21 v 1 Activity for Preschoolers
Books of the Bible Activity with Ping Pong Balls