Tops are one of the oldest and most beloved toys. Clay tops have supposedly been found in the Middle East dating all the way back to 3500 BC and wooden tops in Egypt from as early as 2000-1400 BC. These toys are the epitome of "timeless".
Spinning tops also defy continental and cultural boundaries. My parents recently went to Nhowe Mission in Zimbabwe to work at the hospital that our church and family helped to build and now support. We learned how to make the world's best spinning top after a patient of my dad's made about a hundred homemade tops to send with he and my mom for the children there to enjoy.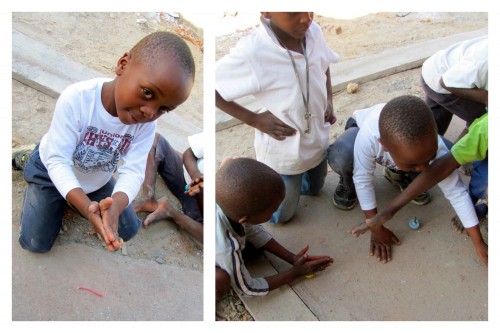 Our boys were recipients of the very few that made it back home without being given to the children (and adults) at Nhowe. They were immediately in awe of the fun that transpired with such a simple toy!
Once we realized how much our boys enjoyed the homemade tops, we decided to make our own and let them decorate them! This project is so versatile: it would be a great project for VBS, birthday parties, summer camps, craft time, or even as a service project to send to missionaries or to put in Operation Christmas Child boxes!
*Please note: Due to the marble, these toys are not appropriate for children under 3 as they could pose a choking risk. If you have younger children in your house, please use extreme caution when playing with these tops.
Here's what you'll need to make your own spinning tops:
Wooden Toy Wheels
Marbles
Wooden Dowel Pins (be sure to purchase at least 18 since there are 18 toy wheels in a package)
Gorilla Super Glue
Various Colors of Sharpies
Puff Paint
This is all you need to make each individual top: a wooden toy wheel, marble, dowel pin, and glue. We learned through trial-and-error that gorilla glue worked much better than the glue pictured above.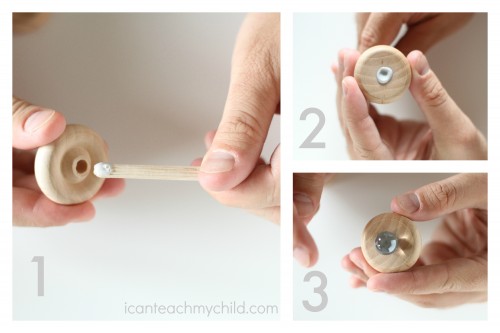 The process of making the top itself is actually pretty simple…just make sure an adult is doing these three steps. (1) Add some gorilla glue to the end of the wooden dowel pin and insert into the center of the wooden wheel. (2) On the opposite side of the wooden wheel, add a generous amount of gorilla glue and place a marble in the center of the wheel.
Poke holes in an egg carton and let them dry for at least 2 hours (if not longer).
Use Sharpies to color the tops. Then add some puffy paint for more decorating! Let dry completely before you use your top (speaking from experience–the puffy paint will spin all over your counters)!
All of the boys in our house (children and adult alike) have had hours of fun with these tops! Check out this video that demonstrates how well they spin!

Can't see the video? Go here.