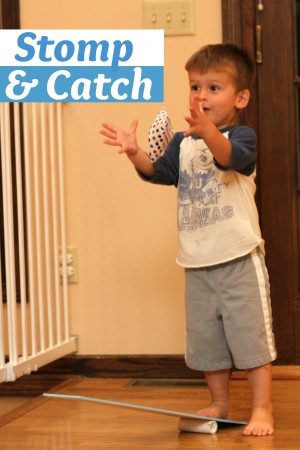 When we went to the Open House at my son's preschool, the P.E. teacher had these awesome little boards where the child launches a bean bag by stomping on the opposite end and then attempts to catch it. After a little research, I found out that these are called  "Joey Jumps" and you can expect to pay almost six times the price as our DIY version!
Instead of buying one, we decided to make our own for about $5, including the bean rice bags since I already had the extra fabric and rice on hand.
Here's what you'll need:  a thin board (I bought ours at JoAnn's–you can see the dimensions on the tag below), a 3-inch piece of PVC (which we had left over from our soccer goals), sandpaper, some gorilla glue, a drill, fabric, rice, and a sewing machine (or you could make these no-sew duct tape bean bags). Optional materials:  paint and a paintbrush.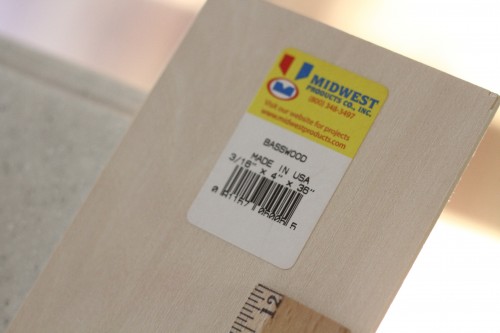 1. Cut your board 28 inches long. Ours was already 4 inches wide. Sand the corners so that they are slightly rounded.
2. Glue the PVC about 6 inches from one end of the board. Once it's dry, I would recommend drilling two screws from the top of the board into the PVC to make sure it holds.
2. Glue a small square of sandpaper on the opposite end, so that the bean bags wouldn't slide off.
3. Although this step isn't required, we painted the board as well. I already had some extra latex paint on hand, so this didn't cost anything.
4. To make the bean bags, cut each piece of fabric 10″ x 5″. Fold with the wrong side out.
5. Sew the remaining 3 sides (you already have the fold), but leave at least an inch or two open.
6. Turn the fabric inside out.
7. Use a funnel to add 1/2 cup of rice and then sew the hole shut.
All ready to go!
You'll stomp on one side of the board (closest to the PVC pipe) and send the beanbag flying.
This is excellent for hand-eye coordination…not to mention, it is lots of fun! This is our new favorite toy around our house!
Never to be outdone, Big Brother attempts to catch two beanbags at once.
Little Brother was so excited that he caught it!
I also made a bag to keep everything in (which would also make a great gift). I just used some leftover fabric and sewed the 3 edges inside-out. I also made one strap to carry it. All-in-all, this little bag took less than 15 minutes to make (and believe me, I am still not very good at sewing).
It's not too early to start thinking about Christmas gifts! The options are endless for ways that you can customize the board (and the beanbags) for the special child in your life!