MAKE IT: Save, Spend, Give Bank
I recently wrote a guest post on Money Saving Mom about whether or not to give your child an allowance. In short, I suggested giving an allowance (or commission…whatever you want to call it) for certain chores while others were to remain simply expectations as a member of the family. I believe that an allowance provides children with an opportunity to handle money responsibly while at the same time encouraging them to give.
Big Brother turns 3 in January. We will be begin giving him an allowance at that time. I created this "bank" for him to put his money with three separate compartments: Save, Spend, and Give. I have seen a few manufactured piggy banks with this same concept, but they were a bit pricey. Thanks to a shoebox and some baby food jars…we spent absolutely nothing and used items from around the house to create our own version.
Here's what you'll need to make your own: a small child-size shoebox, 3 empty baby food jars, paint, a knife (a box cutter would be even better) and some letter stickers.
And in case your wondering why the lighting is different in every picture–we did this project at several different times of day. ;)
1. Paint the outside of the shoebox (or you can wrap it in paper–painting was easier with the type of box we had). We used tempera paint and it took a couple coats. Let the paint dry.
2. Paint the inside. Let it dry.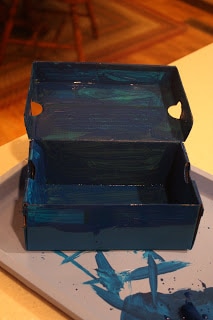 3. Arrange the baby food jars inside the box. Mine fit perfectly inside, but if you have some extra room, add a little bit of sticky tack to the bottom of each jar so it will stay in place. Label the jars as well so that when you open the box, your child will know where the money is intended to go.
4. Put three equal-sized pieces of tape on the top of the box.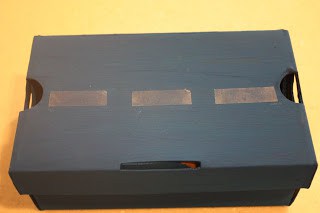 5. Using a knife, cut right on the edge of each piece of tape.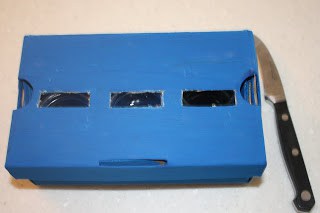 6. Add your stickers and you're done!
I love using the baby food jars because the coins make a nice "plink" sound whenever dropped in! I also think it would be nice to add some contact paper to the top of the box so it stays looking nice and neat.
What are your thoughts on teaching your young children to manage money?