Brown Bear Button Snake Retelling
This month's Virtual Book Club for Kids is one of my absolute favorite books for toddlers:  Brown Bear, Brown Bear, What Do You See? by Bill Martin Jr. and illustrated by the talented Eric Carle. We read this book just about every day so it is definitely a favorite in our house! This Brown Bear Button Snake Retelling makes for the perfect blend of fine motor and reading comprehension (retelling).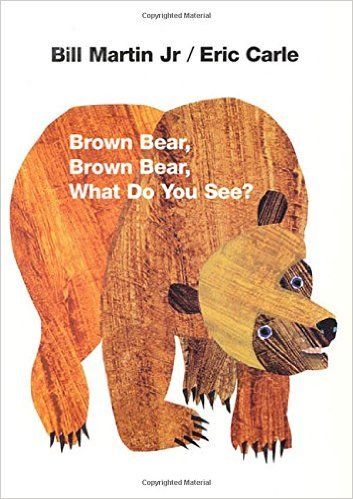 I have always wanted to make a button snake but the one thing holding me back is that I didn't know how to sew on a button. I know…it is pitiful. I can sew rag quilts and ribbon blankets but can't even sew on a simple button. My mother-in-law tried to teach me a few years ago but I have since forgotten (I am horrible). In order to make this activity, I had to google a YouTube tutorial. :)
Here's what you'll need:
White Felt
Scissors
Ribbon
Needle and Thread
Oversized Button (about the size of a quarter)
1. Print out the Brown Bear printable on iron-on paper (make sure you mirror it before printing).
2. Cut out the animals and then iron them onto the white felt, following the directions on the iron-on paper package.
3. Cut out the felt pieces.
4. Use a pencil to mark a line on the backside of each animal that is wide enough for an oversized button to fit through.
5. Fold in half and then use scissors to make a small hole through. Unfold the animal and then cut the slit all the way through the line.
6. Meanwhile, use a needle and thread to sew an oversized button onto a piece of ribbon. Since we are learning about colors in this book, I thought it was only fitting to use a rainbow ribbon. If you are a loser like me and don't know how to sew on a button, this tutorial is helpful.
7. Once your button is sewn on the ribbon and all of your animals have slits through them, you can start threading the animals onto the button snake.
We got out our copy of Brown Bear, Brown Bear, What Do You See? and tried to thread them in order.
Little Sister thought this was pretty cool to have all the animals from her favorite book!
Check out more Brown Bear, Brown Bear activities here:
Brown Bear Beginning Letter Sounds Game  ::  Inspiration Laboratories
Counting Bear Number Strips and Color Matching Activity  ::  Mom Inspired Life
Brown Bear Brown Bear Printable Language Arts Activity  ::  Growing Book by Book
Brown Bear Slime  ::  Preschool Powol Packets