How To Make A Baby Rag Quilt
Several years ago, the girls at our church began making these quilts for each new baby. A baby boom occurred soon after, so we began limiting it to the firstborn child of each family (simply because the two of us who had sewing machines couldn't keep up). I think I have sewed probably around 25 of these quilts in the last 6 years or so. We too were blessed to receive one of these beautiful quilts from some wonderful friends at Big Brother's baby shower.
Please note:  Just like any loose blankets, these rag quilts should never be used in a crib with a newborn baby. They make for a great tummy time blanket (especially if you have various textures) or play blanket.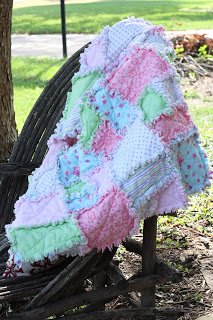 The great thing about rag quilts is that they are very forgiving.  If your pieces aren't cut exactly right, that's okay! You won't even notice because there is a one-inch seam that allows for lots of mistakes! A couple years ago, a good friend and I took a quilting class. Although it was super-fun because I had amazing company, I soon realized I was in over my head! I kept trying to take the shortcuts I am used to taking with rag quilts and quickly found that regular quilting requires near-perfection. Since I'm not a perfectionist in the least, I think I'll just stick with the taggie blankets and rag quilts from now on!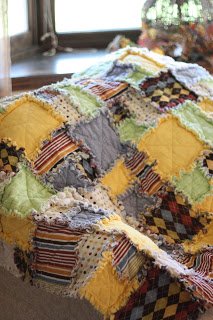 Although they take quite a bit of time to make simply because all the steps, they are really pretty easy. And the end product is totally worth it! They're a perfect way to start off learning how to sew (after the taggie blankets, of course).
Two of my best friends from childhood recently had their first babies–one friend had a boy and the other had a girl. Since these friends will always be super-special to me, I wanted to make their sweet babies something special as well!
Here's what you'll need:
About 8-9 yards of coordnating fabric (I like to use flannel because it "rags" well, but cotton fabric works well too…I would suggest using at least 6-7 coordinating fabrics with a couple solids)
Batting
Multi-purpose thread (I always just use white, no matter what)
Sewing machine
Rotary Cutter*
Rotary Mat*
Quilting Ruler*
Pins
Sharp scissors that can cut through several layers of fabric
*If you don't have and don't wish to invest in a rotary cutter, mat, and quilting ruler (which will make your life so much easier), you can simply make 6 sizes of patterns (3 for the fabric, 3 for the batting) and use scissors to cut them out. It will take MUCH longer this way, however.
Sizes of squares and rectangles:
Fabric (2-sided:  cut 2 layers at a time and then put the wrong sides together):  9″ x 9″ square (21 count), 5.5″ x 5.5″ square (42 count), 9″ x 5.5″ rectangle (21 count)
Batting: 7″ x 7″ square (21 count), 3″ x 3″ square (42 count), 7″ x 3″ rectangle (21 count)
Instructions
I'm writing this all from memory (I don't have a pattern), so if it seems I skip a step or my instructions don't make sense…leave a comment and I will clarify!
1. Gather your materials (and bask in the beauty of coordinating fabrics)!
2. Use your rotary cutter, mat, and quilting ruler to cut out the fabric into the squares and rectangles. I kept my material folded together  (so that I was cutting through 2 layers at once). Plus, it's easier once you go to the next step if the pieces are already sandwiched together (with right sides facing out). You will need to cut

21

 sandwiched 9″x9″ squares,

42

 sandwiched 5.5″x5.5″ squares, and 

21

 sandwiched 5.5″x9″ rectangles.

Make sure to cut various sizes of EACH fabric (DON'T cut one whole yard the small squares, etc. because it won't look right when you put the quilt together.
2. Then cut the batting (again using your rotary tool, mat, and quilting ruler). You will need 

21

(7″x7″ squares), 

42

(3″x3″ squares), and 

21

(7″x3″ rectangles).
3. Place the batting centered between the two pieces of fabric. Remember…the RIGHT SIDES SHOULD BE FACING OUTWARD. You could pin it (if you want)…but I've found they normally hold together pretty well without pins (or maybe I'm just lazy).
4. Sew an "X" through each square/rectangle with the batting in between. It's your choice whether or not you want to backstitch. I normally do (out of habit), but it's really not necessary.
See?
5. Place each size of squares/rectangles in their own piles.
6. Then clear a large area (on the floor) to begin laying out the pieces. Start by placing the 9×9 squares in a checkerboard pattern with 3 large squares in each row (for a total of 7 rows).
7. Then add the rectangles (making sure that fabrics of the same pattern don't touch). Place one of the rectangles in each "empty" part of the checkerboard.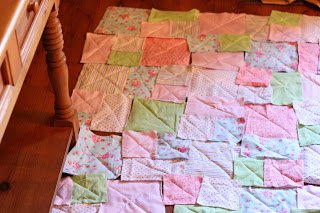 8. And finally add the small squares. You'll use 1 rectangle and 2 small squares to make the equivalent of one large square.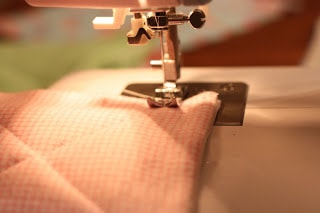 9. Begin sewing each row together, leaving a one-inch seam. You'll want to sew the rectangle and 2 squares together first and then sew those together with the large squares.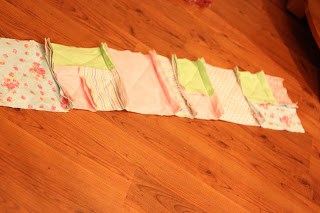 See? One row done!
10. Once you have 2 individual rows sewn together, you'll want to use your pins. Place the top row with the seams facing down (touching the ground…not as shown in the picture). Then place the second row on top of the first and line them up. Pin them together (about 1 pin per large square is sufficient).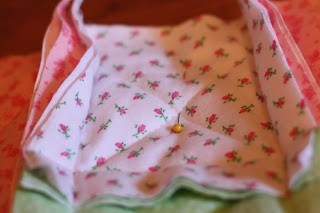 11. Begin sewing, again leaving a one-inch seam, down the entire length of the row. Make sure you backstitch this time! Continue with steps 9-10 until all 7 rows have been sewn together.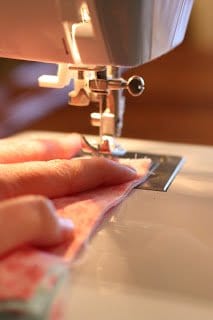 12. Then sew around the perimeter of the quilt, leaving one inch on each side.
You're done sewing… I didn't take a picture of the backside, but it WILL NOT be ragged, it will just look like a plain quilt.
13. Now it's time to rag! Cut each layer using a pair of very sharp scissors about every 1/4″. It'll take a while. Pop in a movie and get to work (but take a break for your hands in between). :)
14. Wash on the "gentle" cycle and then dry on "low". Be sure to clean out the dryer vent afterwards.
That's it! Now you have a wonderful keepsake to bless friends and relatives with!
You're seeing green! I made these back in October and am JUST NOW getting to posting it. :)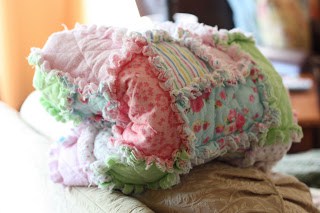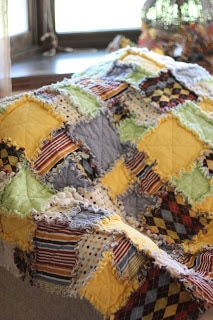 This is the quilt that our sweet friends made for Big Brother.
Click here for more ideas for baby:
Baby Shower Decoration Ideas On A Budget
Best Bible Story Books For Baby
Cutest Dollhouse Bookcase (with plans)