DIY Taggie Blanket for Baby
Handmade baby gifts are the sweetest! This beginner-friendly tutorial will teach you how to make a DIY Taggie Blanket for a special baby in your life!
I first learned how to make one of these mini DIY Taggie blankets when a student's mother quickly gave me a 2-minute verbal tutorial while picking her daughter up from school! I made Big Brother one before he was born and he loved it, especially around 3 months when he could put the little ribbon tags in his mouth. It was then passed down to Little Brother, who still sleeps with his every night. I've made several for baby shower gifts as well. These ribbon blankets are intended to be cuddled and chewed on!
This is SO EASY to make, you could make it even if you've never sewn. And it will take you less than an hour. Just borrow a sewing machine or head over to a friend's house if you don't have one. I promise you this…the hardest part of the whole thing will be figuring out how to thread the machine!
Initially, you might have to fork over around $10 for fabric and ribbon, but it should make at least 3-4 ribbon blankets! Plus, everybody loves a homemade gift for baby…it just makes gift-giving much more personal.
Here's what you'll need:  2 pieces of fabric cut to 12″x12″; several different colors, textures, and widths of ribbon; a sewing machine; pins and thread.
How to Make a DIY Taggie Blanket for Baby
1. If you didn't already, cut your fabric to a 12-inch by 12-inch square. I like having two textures–the blue fabric is soft and fuzzy and the pink polka-dots is flannel.
2. Lay your fabric on top of eachother, right sides together.
3. Cut your ribbon into 5-inch strips. You'll need about 16-18 strips.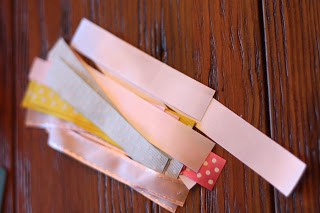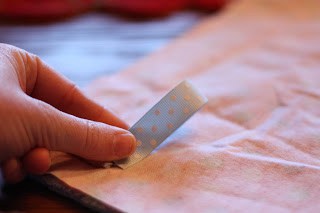 4. Fold your ribbon in half and crease it as best you can.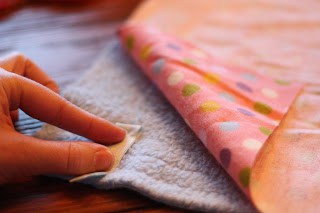 5. Place the ribbon in between the two layers of fabric, with the ENDS of the ribbon sticking out (meaning the CREASE will be inside the two pieces of fabric).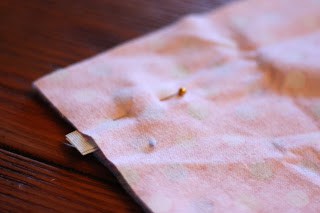 6. Pin it in place.
7. Continue with the remaining ribbon. Then start sewing.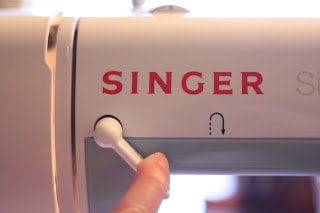 8.  Once you get to a ribbon while you're sewing, back stitch

at least

3 times over THE ENTIRE LENGTH of the ribbon. This will ensure that the ribbons will not come loose, even when tugged and gnawed on. Make sure you do this with every ribbon you sew over.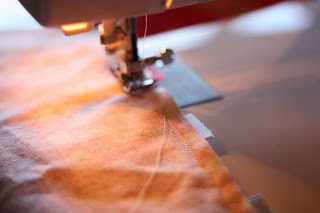 9. Once you've sewn the entire perimeter, leave the space between two ribbons un-sewn (just back stitch the ends so it doesn't come apart).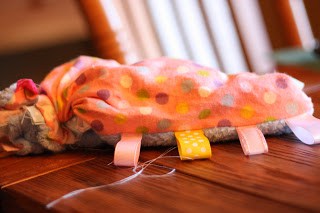 10. Turn inside out.
11. Stitch the remaining section that was never sewn together. I just use my machine. You COULD hand-stitch it and it would probably look nicer, but I honestly don't know how to hand-sew…so I'm of no help.
All done!
What homemade gifts for babies do you like to make?
First published on November 8, 2010