No-Clutter Gift Ideas for Kids
We recently had the second garage sale of my entire life (and I swore never to do it again after the 
first 
one). But alas, with expecting a baby girl and having all boy stuff (along with a tons of other stuff in our house), it was a necessary evil…especially since I am 99% sure this will be our last biologically-born child (unless God says otherwise, that is).
Normally we just donate our old stuff to Goodwill (or elsewhere) and record our donations for tax-purposes. But this time around, there was just too much stuff. Aside from being completely exhausted before, during, and after the sale…I am so glad we did it because I feel like we can start with this baby with a clean slate (literally).
Now that we have pared down our excess clothes and toys, I'm worried that the holidays will bring more clutter. I've compiled a list of
Gifts of Experience
Instead of an actual gift, give your children the gift an experience. Perhaps this is a special trip or a yearly pass to the zoo or local children's museum. Although it might not be quite as much fun as a toy to open on Christmas morning, I assure you that it will last much longer (and so will the memories you make). Try thinking of a clever way to package it so that your child isn't dissapointed with a piece of paper. :)  For a zoo pass, you could tie the pass onto a cute stuffed animal or something equally as creative and engaging for your child. For a museum, attach the pass onto a set of new paintbrushes!
Art Supplies
Aside from regular markers and crayons. Here are some of our favorite art supplies:
Smencils (scented pencils–so fun)
You can use a clear over-the-door shoe organizer to keep all of your art supplies contained   This could even be part of your gift…out of sight and neatly organized!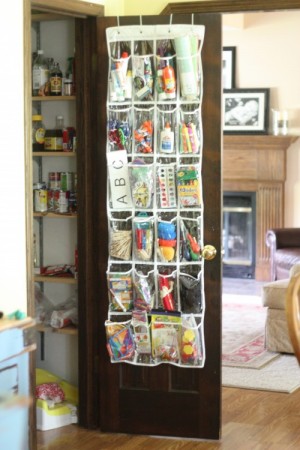 Playdough
Make your own playdough or purchase a kit. Keep it in a bag or container in the pantry and pull it out for supervised use! Here are some of the different varieties of playdough that we have made:
Chocolate-Scented "Mud" Playdough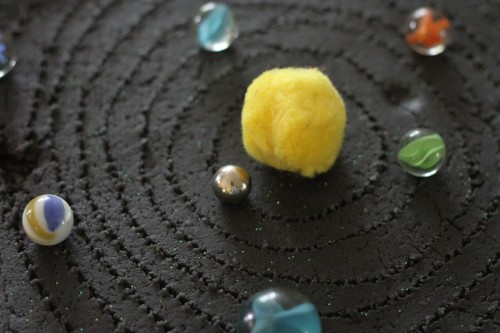 And for the "tools" to get the job done, this Melissa & Doug Shape, Model & Mold set is perfect (and every tool has a place in the tray)!
Bath Paints & Shapes
The great thing about bathtub toys is that they stay in the bathtub (and don't clutter your floor). We've made our own bathtub paints, but these wouldn't be easily packaged. Here are a few other pre-packaged bathtub crayons and paints…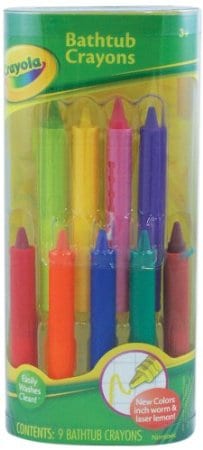 Want to make bath shapes? Just buy some pieces of craft foam and make your own shapes for the bathtub that stick on the walls (but not permanently).
Flashlights & Laser Beams 
Every kid loves a flashlight. Whether to encourage reading or just to play, a flashlight makes a great and simple gift (that can easily be tucked into a drawer).
We also use these Finger Laser Lights while we're decoding words. Just make sure to have a bag or something to put them in or they can easily become clutter!
Craft Sticks
There are so many things that kids can create with wooden craft sticks. Most recently, our boys have used markers to color them and make light sabers for every toy they own. You can also make a miniature bow and arrow set! Just store them with your other craft supplies in an over-the-door shoe organizer to minimize the clutter!

Books
Sometimes books can feel like clutter, but they can easily be contained in a basket or tub. Having books accessible in most rooms of your home will make it easier to make reading a priority!
Here are some of our favorite classic picture book read-alouds:
Corduroy by Don Freeman
The Little Engine that Could by Watty Piper
We're Going on a Bear Hunt by Michael Rosen
Where the Wild Things Are by Maurice Sendak
Harold and the Purple Crayon by Crockett Johnson
Cloudy with a Chance of Meatballs by Judi Barrett
Caps for Sale by Esphyr Slobodkina
Fireflies! by Julie Brinckloe
The Very Hungry Caterpillar by Eric Carle
The Tale of Peter Rabbit by Beatrix Potter
Harry the Dirty Dog by Gene Zion
And here are some of our favorite chapter books:
The Magic Treehouse Series by Mary Pope Osborne
Little House on the Prairie Series by Laura Ingalls Wilder
Charlotte's Webby E.B. White
The Boxcar Children Series by Gertrude Chandler Warner
Stuart Little by E.B. White
The Mouse and the Motorcycle by Beverly Cleary
Mr. Popper's Penguins by Richard Atwater
What are you favorite no-clutter gift ideas for kids???