There aren't many things better to eat than a warm, buttery, salted pretzel…unless, of course, it is a pretzel in the shape of the Olympic rings! Have your child help you throw together these pretzels to watch the Opening Ceremonies or any other Olympic event!
Here is the recipe (adapted from Good Cheap Eats). FYI:  I did not have any bread flour (or all-purpose flour, for that matter), so I ended up using my White Whole Wheat Flour. They tasted very healthy, though I would suggest using all bread flour or half bread flour and half wheat flour.
Ingredients:
¼ cup water
½ cup room-temp milk
½ tablespoon sugar
2 cups bread flour
¾ teaspoon salt
½ tablespoon active dry yeast
Soda Wash:
4 cups of water
8 Tablespoons baking soda
Toppings:
Butter & Kosher Salt or
Cinnamon & Sugar
 1. If you have a bread machine, put all of the ingredients in the order listed and set your machine on the dough cycle. If you DON'T have a bread machine, just warm the water and milk slightly and mix with the remaining ingredients. Cover the bowl with a dishcloth and let rise until doubled. Then proceed with the remaining instructions.
 Mixing…
Risen and ready…
 2. Separate the dough mixture into 5 equal pieces.
 3. Roll out each lump of dough into a long snake (mine were about 8-10 inches long). Pinch the edges of each snake to make a circle shape.
 4. Meanwhile (in a LARGE pot), bring 4 cups of water to a rolling boil and then add 2 Tablespoons of baking soda. Obviously, keep your child away during this part of the process.
Oops…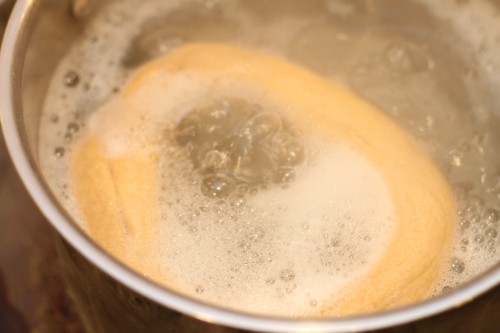 5. Drop each ring into the boiling water mixture for about 30 seconds each.
6. Position each ring in the shape of the Olympic Rings.
7. Bake the Rings at 450 degrees for 9-10 minutes, or until golden brown.
8. Brush with butter and add toppings while still warm.
 Yummy…and festive!