Sorting and Threading Foam Beads Activity for Toddlers
Today is our first day of our 4-week Toddler Time challenge! Since it is Monday, our activity is focusing on colors. This Sorting and Threading Foam Beads Activity for Toddlers is excellent for color recognition and fine motor skills. Our foam beads are made from cut-up pool noodles and will also be used for quiet blocks as well.
Today's activity is super simple and, as promised, took less than 10 minutes. I focused on just two colors today because I wanted to see how Little Sister did sorting them. She knows all of her colors but sorting based on a common attribute is a skill that is still pretty abstract for most toddlers. She ended up sorting these two colors really easily and next time I will probably involve at least 4 or 5 colors in our color activities.
Safety Note:  Please do not attempt this activity with toddlers who still regularly put things in his/her mouth. All children (even older ones) should be supervised throughout the remainder of this activity as the foam can detach and pose a choking hazard.
Here's what you'll need for this activity:
Colored pool noodles cut into 1 1/2- 2 inch discs
Rope in at least two of the colors of the pool noodles.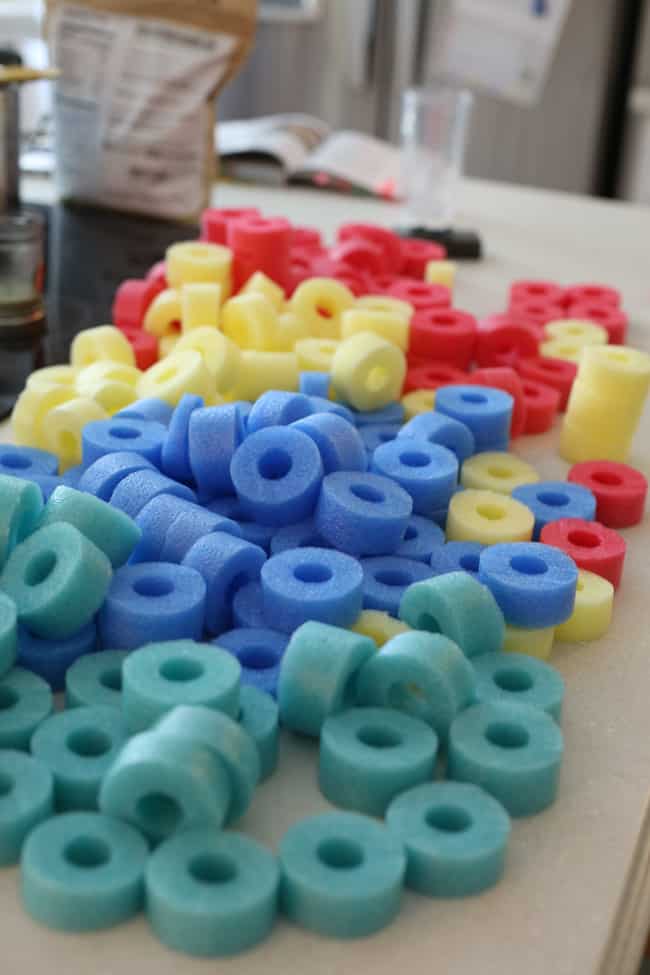 I used a serrated knife to cut the pool noodles into small discs. You could mark every 1 1/2 to 2-inch mark using a ruler if you wanted to…but I just took the lazy way out and eyeballed it. :)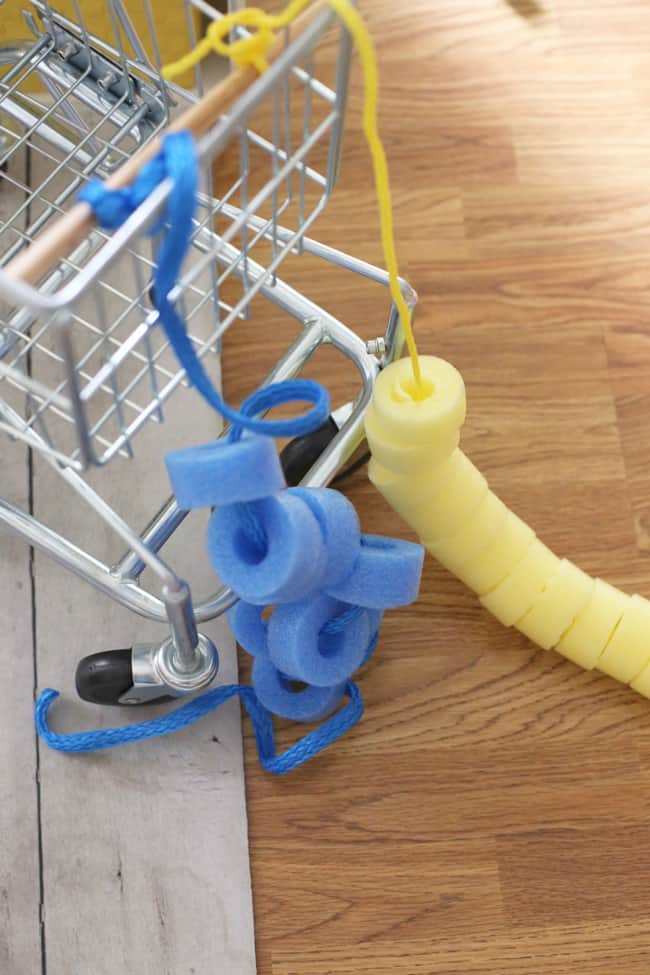 I attached two different colors of rope we had on hand to a dowel rod and stuck it in our little shopping cart. This made the rope easier for Little Sister to work with.
Afterwards Little Sister enjoyed making the ropes "dance" by shaking them back and forth. :)
Check out more fun toddler time activities here: