5 Ways to Make Handwriting Fun
As a former first grade teacher, I understand and appreciate the importance of handwriting. With recent changes to curriculum and an increased dependency on digital devices for learning, handwriting instruction seems to be going the way of the dinosaurs.
As hard as it might be to find time, handwriting instruction and practice is beneficial for so many reasons. Handwriting can help strengthen cognitive and fine motor skills. Handwriting helps build a child's confidence in their creative writing abilities down the road. When students spend less time concentrating on letter formation and neatness, they can write more creatively, efficiently, and effectively. Despite our growing dependency on technology, our kids still need to know how to write and write well!
Unfortunately, however, handwriting practice can be like pulling teeth (in our household, anyway). I have one child especially who desperately needs practice with his handwriting . As the son of a teacher and a child who spent his childhood doing one activity after another (especially fine motor activities), I am  baffled by his lack of motivation when it comes to handwriting. We have decided to join the BIC® Fight for Your Write challenge and are trying to make handwriting practice more enjoyable for everyone.
Here are 5 Ways to Make Handwriting Fun:
1. Don't write.
Yes, you read that right. It might seem counterintuitive, but one effective way to improve your child's handwriting doesn't involve writing at all! A child's handwriting abilities are a direct result of the fine motor control in his/her hands. By doing activities that strengthen the small muscles in your child's hands (especially while your child is young), you are inadvertently helping make handwriting easier in the long run. Check out our favorite fine motor activities for some ideas to get you started.
2. Change up the writing utensil.
Pencils can be boring when it comes to practicing handwriting. Try a thin marker, crayon, or a fancy-shmancy shuttle pen (my boys' favorite) to make writing more colorful.
You can also remove the writing instrument all together and let your child practice making the formation of the letters in shaving cream or salt using only their finger!
3. Try a new angle.
Writing doesn't have to be done while sitting at a table. Change up the angle and try something new while encouraging your child to work on letter formation.
Tape a paper to a window for a whole new way of writing! Chances are, your child's handwriting will actually be neater when writing this way as he/she concentrates on the letter formation more closely while writing from a different angle.
You could also tape a piece of paper to the underside of a desk or table and let your child write upside down!
4. Encourage your child to be a secret investigator.
Tell your child that secret investigators study their environment and often keep a pad of paper to jot down their observations. Give your child a notebook and have him/her start writing down observations from the world around them. I gave my son the challenge of writing 5 words to describe something he saw in his environment (a tree, for example). This is not only a great way to get your child to practice writing but also a helpful way to introduce adjectives.
5. Write a letter to a pal.
What is more fun than receiving an old-fashioned piece of mail in the mailbox? Have your child find a pen pal and have him/her start writing letters back and forth to their friend! It will not only strengthen the bonds of friendship but will also offer a fantastic opportunity to practice neat handwriting. After all, what good is a letter if your friend can't read it? :)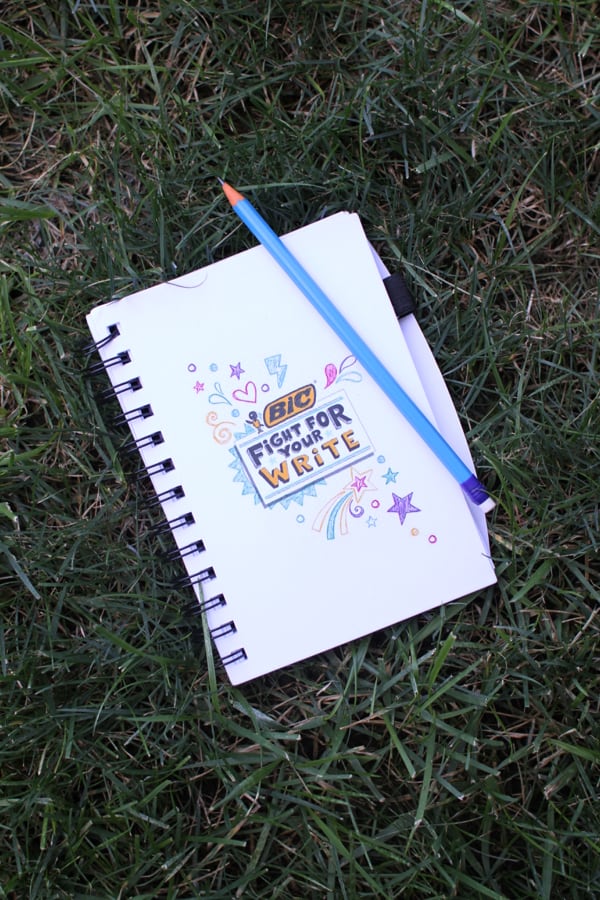 What about you? How do you make handwriting fun in your household?
BIC® has created an initiative to save handwriting! Sign the BIC Fight for Your Write Pledge and enter to win a $1,200 BIC Prize Pack!
This is a sponsored conversation written by me on behalf of Bic. The opinions and text are all mine.