Looking for some books about camping? Here are just a few that we are enjoying…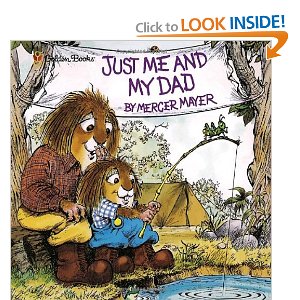 Just Me and My Dad by Mercer Mayer is a sweet book all about a Little Critter's camping adventure with his dad! Big Brother actually received this book for his birthday and we have read it several times. It is a short read with cute, colorful illustrations that includes all the elements of a great campout: tents, campfires, fishing, and wildlife!
We're big fans of Curious George around here, so it wasn't much of a surprise that both the boys loved Curious George Goes Camping. Mischievous George finds himself in a predicament, yet again, when he wanders off to play with all of the animals who live around the playground and ends up getting sprayed by a skunk. As George is trying to air himself out (in hopes he won't stink anymore), he notices a small fire in the forest and saves the day by dumping water on it. The park ranger and the man with the yellow hat both praise George for his help and assist him with a tomato juice bath!
The queen of literal thinking is back at it…this time on a camping trip with Mr. and Mrs. Rogers. Amelia Bedelia Goes Camping includes all that you would expect from this silly housekeeper…tents pitched (into the bushes), fish caught (while Amelia Bedelia dives in and chases them), and hitting the road (with a stick). Younger children might not understand the absurdity of Amelia Bedelia's actions because they too are literal thinkers, but children who are familiar with camping will surely enjoy this silly book.
A sequel to Big Dog, Little Dog, Fred and Ted Go Camping by Fred Eastman is a great book for introducing opposites. The pictures are bold and colorful and the characters are entertaining for preschoolers!
A Camping Spree with Mr. Magee by Chris Van Heusen is a fun rhyming tale of the camping adventures of Mr. Magee and his trusty dog Dee. The story line is fun for kids of all ages and the exhilaration of their tumble down a cliff in the trailer and almost into a waterfall is enough to keep anyone reading!
Maisy Goes Camping is a super-simple story with characters you might already be familiar with if you've read other Maisy books. All of Maisy's friends try to pile into the tent (even the elephant) and several end up sleeping under the stars instead. Little Brother (2 years) enjoyed the book while Big Brother (4 years) needs something with a bit more of a storyline.
Camping Out is another book by Mercer Mayer, but it is even simpler than Just Me and My Dad. Little Critter and his friend Gator head out on a camping adventure, but begin to get a little scared when they hear noises from various animals.
The following books are some that we haven't read yet, but I found them on Amazon and they look terrific:
Do you know of any camping books that were not shared on this list? What is your favorite???