Awesome Ideas For A Camping Birthday Party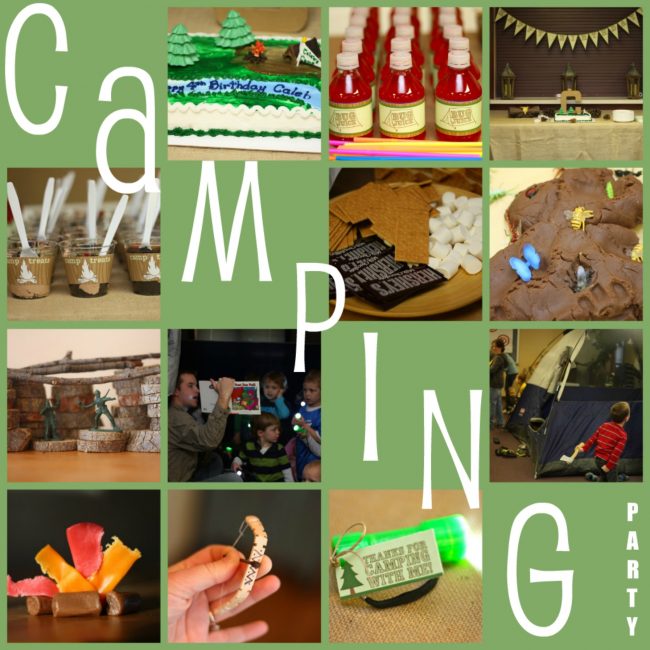 Big Brother experienced his very first camping adventure this last year. In September, he and his Daddy went with several other fathers and sons from our church on a one-night camping trip. I honestly expected them to be home by sundown, but Big Brother totally LOVED it! Even though a certain female member of our family who shall remain unnamed (uh-hum) isn't all that into camping, I knew a camping themed party would be fun for Big Brother's 4th Birthday Party. Plus, this is the first birthday party where we have invited people other than family!
Having a camping birthday party in the dead of winter sorta stinks. But we decided to bring the outdoors in at our church's fellowship hall and it was TONS of fun!
Camping Birthday Party
Camping Birthday Invitations
The camping themed birthday invitations for Big Brother's birthday party were designed by my friend Rachel at RV Parties. She simply sent me the file and I printed them off at our local Walgreens as 4×6 photos.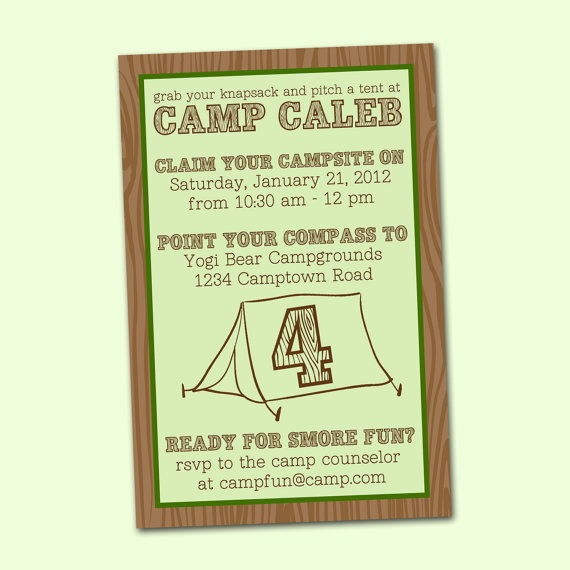 Camping Birthday Party Decorations
RV Parties also had an amazing camping themed party printable set that came with a 'Happy Birthday' banner, cupcake wrappers, cupcake toppers, water bottle wrappers, treat bag toppers, Thank You Cards, and food labels.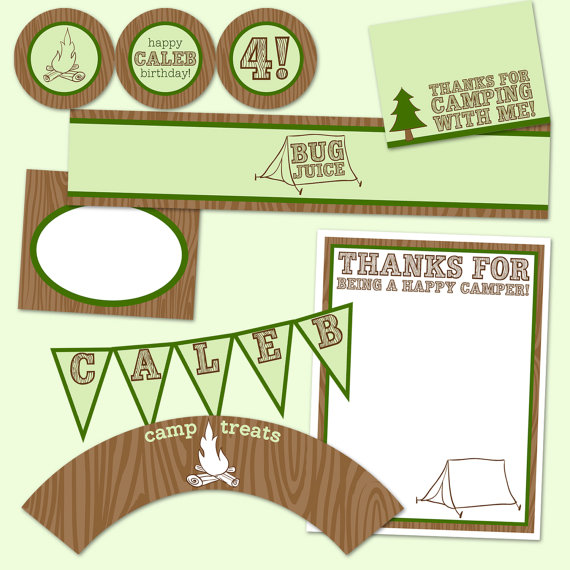 We didn't do a whole lot besides this for decorations for our camping birthday party, but I did buy several yards of burlap from JoAnn's to cover the two tables we used. We also brought our tent (Big Brother's birthday gift from us) and set it up for the kids to enjoy. I took this picture before all the party food was set out…so please disregard the empty table space. :)
The lanterns we used were from my sister's wedding and the pine cones were from our yard.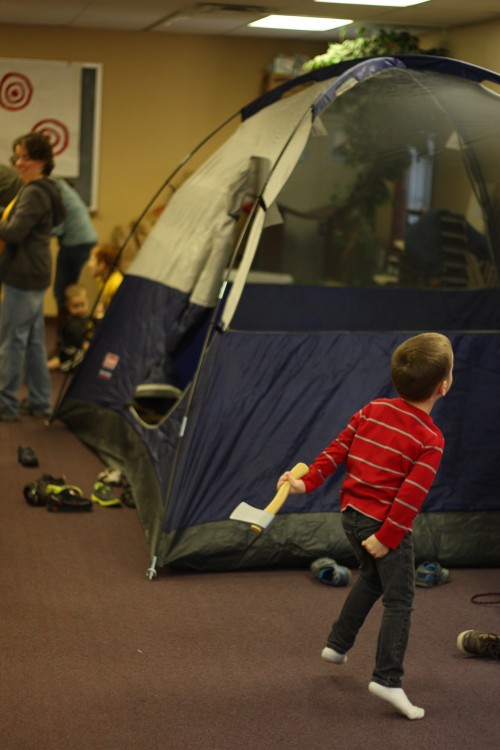 We also used this campfire from Insect Lore.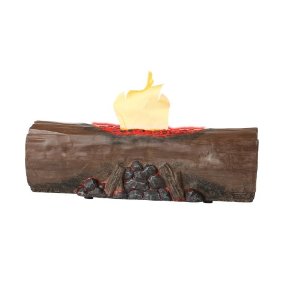 Camping Party Supplies
We used just white styrofoam plates and green striped napkins I found at Target. I really wanted to get camping themed plates, dessert plates, and napkins but I couldn't justify spending over ($30 with shipping) for something that would inevitably end up in the trash!
Camping Party Food Ideas
The camping theme birthday party allowed for some really fun food!
The same lady that made our wedding cake made this cake…for $17! The two pine trees are made of pure chocolate!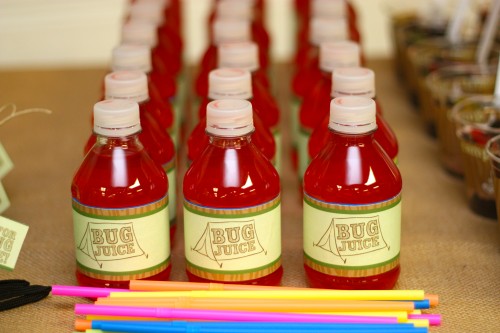 We had bug juice!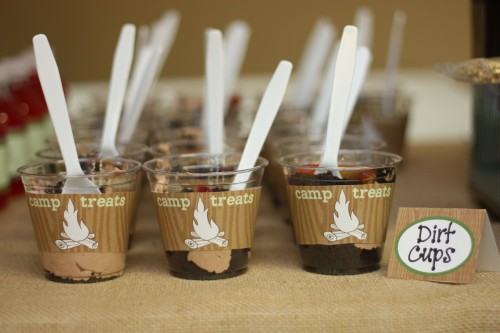 Dessert of Dirt Cups!
Kids in a blanket!
S'Mores
This handy-dandy Old Fashioned S'more Maker allowed us to make this camping essential without an open flame!
Camping Birthday Party Games
Instead of doing group games, I just had several child-size tables set out with various activities on each and let the children go to each table individually. Here are the activities we included: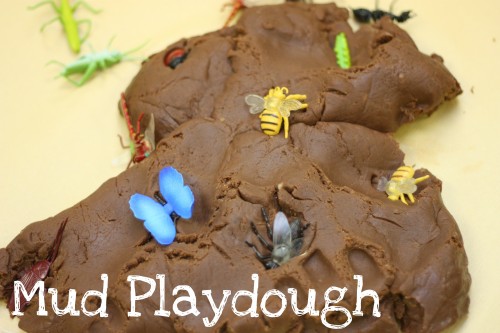 Digging for Bugs in Chocolate Playdough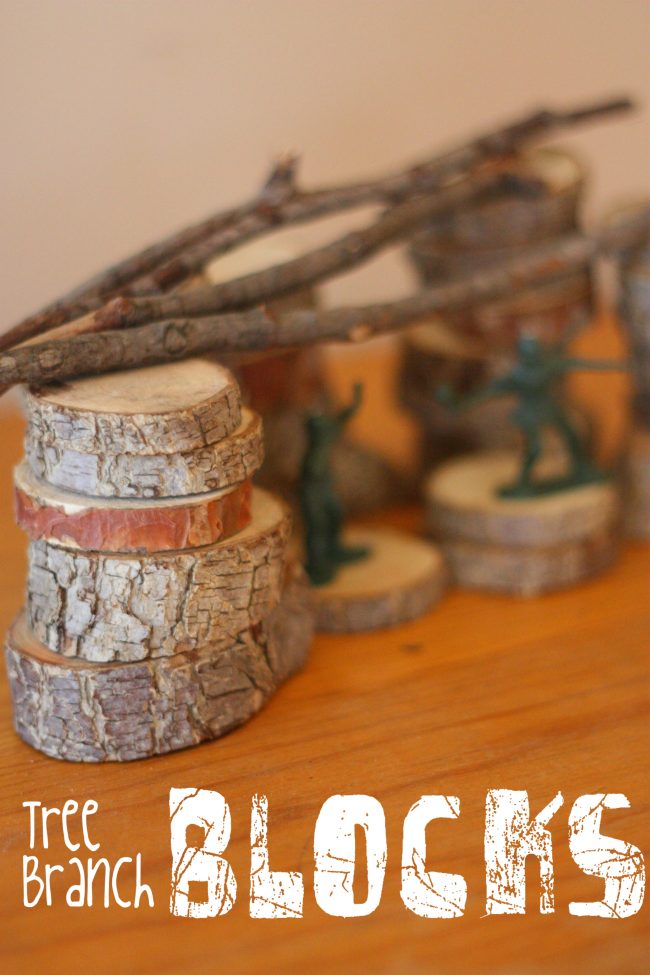 Build a Fort with Tree Branch Blocks
Make a DIY Bow and Arrow (free printable labels included)… just make sure to set up a 'shooting range' to keep the kids from shooting each other!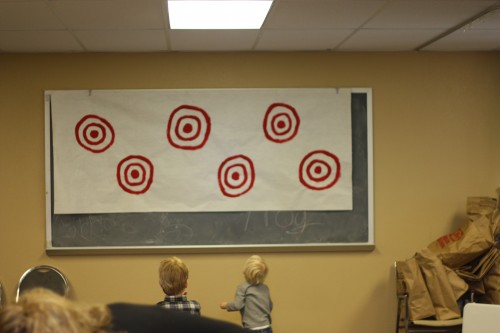 Build individual campfire candy!
This might have been the favorite among the kids…and it was the simplest! We just brought some pipe cleaners and beads and let the kids make bracelets and necklaces.
Color your own t-shirts! Little boys undershirts and fabric markers are a great and inexpensive way to let kids design their own t-shirts.
The kids enjoyed walking around on these. Go here to find out how to make them!
Chop-a-Log (this was a hit)
Read books in a tent! Be sure to check out some of our favorite children's books about camping!
We set out a camping themed felt board on one of the tables for the kids to play with as well.
For each of the above activities, I covered the child-size tables with brown craft paper and then put the following table stands that I printed out on cardstock, cut out, bent, and trimmed.
Download Our Camping Table Printables
"Chop A Log" and "T-shirt Decorating" Table-Top Labels
"Build a Fort" and "Make a Bow & Arrow" Table-Top Labels
"Read in the Tent" and "Digging for Bugs in Mud" Table-Top Label
Camping Birthday Party Favors
We chose to give out flashlights for our camping party favors. Since I had this camping theme party in mind for a few months ahead of time, I found an amazing deal on glow-in-the-dark LED flashlights after Halloween at Lowes. The packaging was Halloween-themed, but I decided to take the flashlights out of their packages anyway. I didn't end up having enough, so I ordered LED flashlights from Amazon, which were also great and inexpensive (they just don't glow in the dark).
I shrunk the treat bag toppers included in the camping pack I ordered online from RV Parties to make little tags for each flashlight.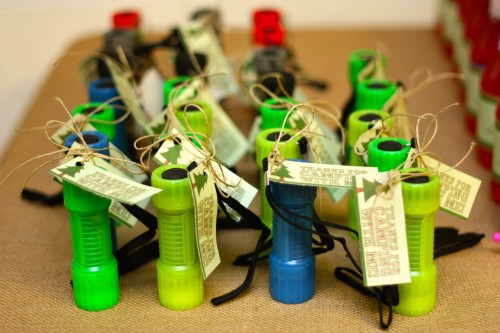 What I love about these flashlights as camping party favors is that they turn on with the black button on top, so even the little ones can turn them on and off by themselves.
Happy Trails!!!
This post was first published Feb 2012. Updated 2019.
*Please note. Some of the links above are my affiliate links. Be sure to read my disclosure policy.
MORE AWESOME BIRTHDAY IDEAS:
Best Gifts For 5 Year Old Boys
Cloud Dough That Smells Like Birthday Cake