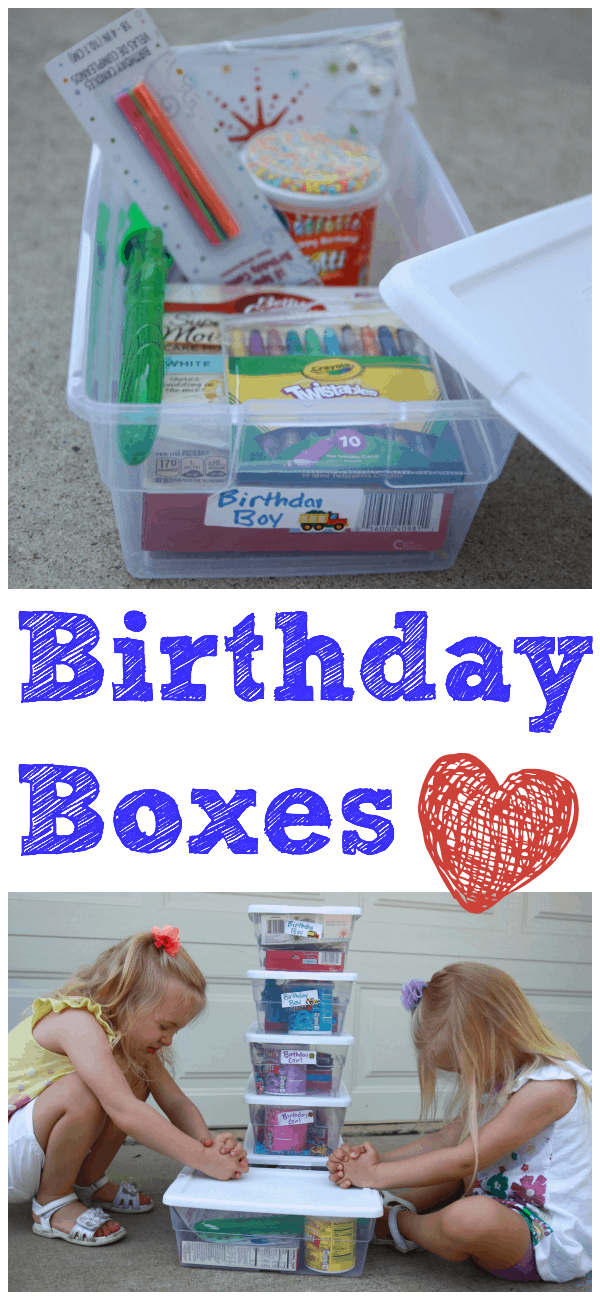 Birthday Box Ideas
Post by Contributing Writer Amy
Two little girls will be 4 years old on the 4th and could not be more excited for their golden birthday. Now that they are getting older, I am becoming more aware of the "Me, me, me!" mentality that birthdays can bring out in sweet little ones. There has been some talk about how they need golden crowns to wear when they are four. :)  Even though the princess culture is huge right now, I can't help wanting more for my daughters. In that light, we started talking about what it means to have a heart of gold. I read Matthew 25:34- 40 with them, highlighting this verse:
"The King will reply, 'Truly I tell you, whatever you did for one of the least of these brothers and sisters of mine, you did for me."
Matthew 25:40
We talked about how a heart of gold is filled with God's love to share with others. I explained what a food pantry was and why people might need it sometimes. Once they knew that there are kids in our community who might not have a birthday cake, they wanted to start right away! I had been planning on making these birthday boxes for a while, so I had been slowly collecting the items as I saw them on sale. You could also see if your child would be up for asking birthday party guests to bring birthday box items to the party in lieu of gifts. Maybe making a birthday box or two or three could be an activity for their next birthday party!
How To Make A Birthday Box
What To Put In A Birthday Box:
Cake Mix
Frosting
Sprinkles, if not already included in the frosting.
Candles
Birthday Banner
Birthday Box Gift Ideas:
Bubbles
Necklaces
Chalk
Stickers
Crayons or other school supplies which will be on sale soon.
Candy
Get more ideas from your kids!
For putting the birthday box together:
Shoebox
Blank address labels
Stickers to decorate labels
Marker
Sidewalk Chalk
Instructions For Making Birthday Boxes: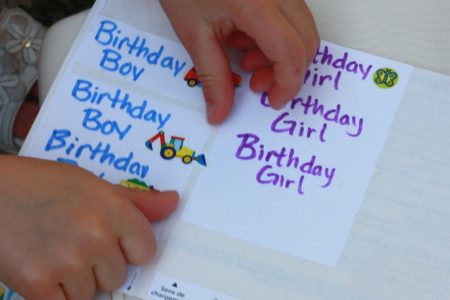 First, prepare labels for the boxes with "Birthday Girl" or "Birthday Boy" if your items are gender specific. I let the girls put stickers on the labels for fun.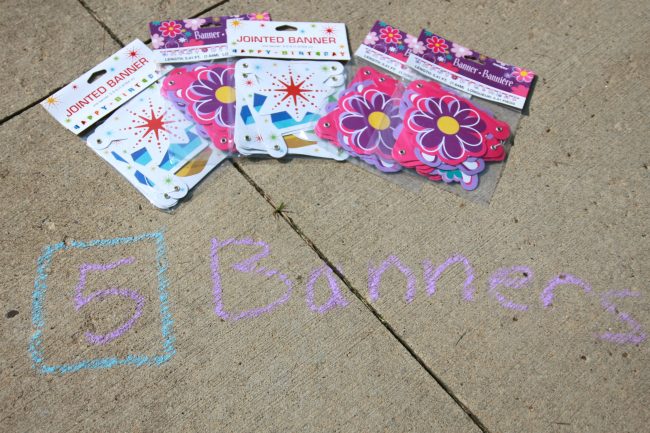 They put the sticky labels on the birthday boxes while I used chalk to make a semi-circle in the driveway of numbers and labels of the things that went in each box. The numbers helped them practice completing steps in order while the labels served as meaningful environmental print. They were also able to help me set out the items before filling the birthday boxes.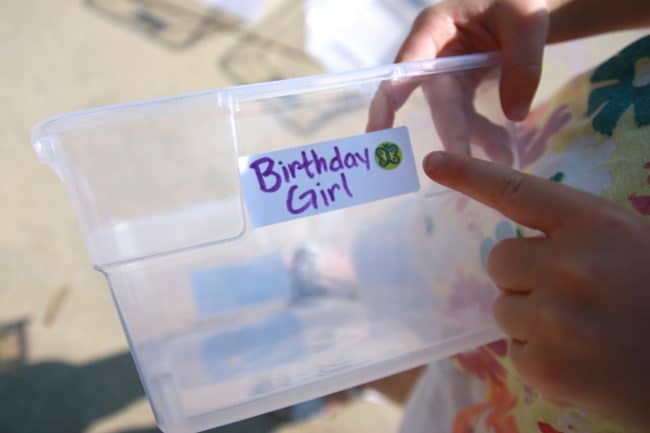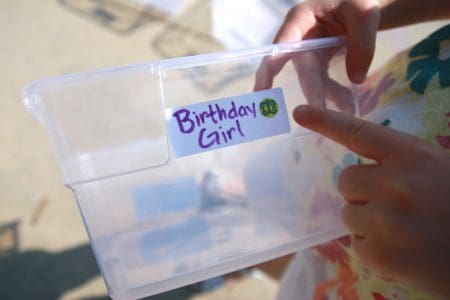 Next, grab a box and check to see if it's for a boy or girl. They had to use their letter recognition and knowledge of beginning sounds to make sure they were correct.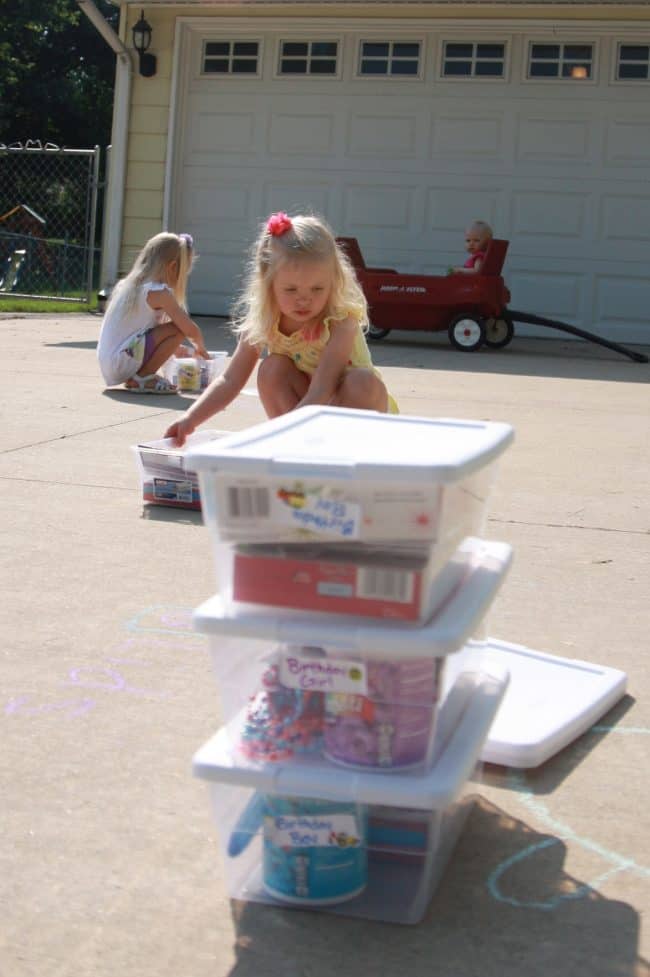 The fun part was watching them go around the semi-circle and fill them up! Baby sister got to eat a snack in the wagon and watch. She was surprisingly ok with that!
Once all the boxes were filled, we took each birthday box, placed our hands on it, and said a simple prayer for the boy or girl who would receive that box.
Our Finished Birthday Boxes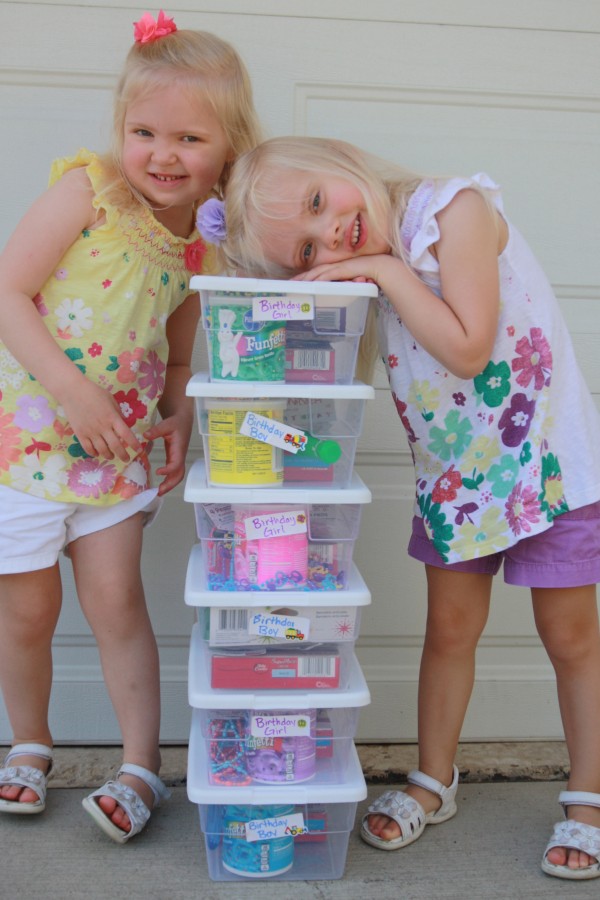 They are all ready to be delivered to our local food pantry! The girls' smiles say it all. A golden crown could never shine as bright as the love overflowing from a heart of gold!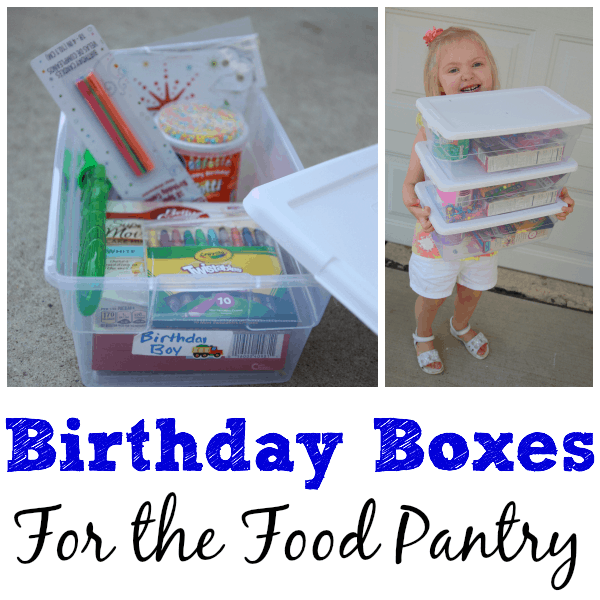 This post was first published 2015. Updated 2019.
Check Out More Service Project Ideas:
Blessing Bags For The Homeless
Operation Christmas Child Packing Party
MORE AWESOME BIRTHDAY IDEAS:
Cloud Dough That Smells Like Birthday Cake
Amy is a former reading and third grade teacher as well as a mother to three little girls with big personalities. She believes joy can always be found in playing, learning, and ice cream.