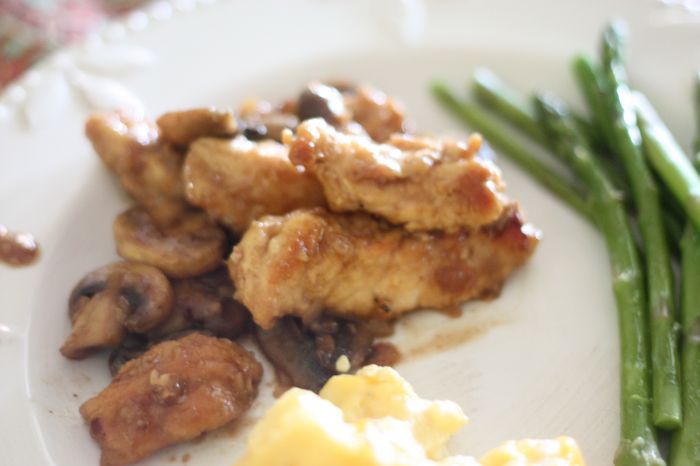 Delicious. This is one of those meals that the kids will eat, but that make you feel like you are enjoying a restaurant-quality meal that's not a ton of work. It is one of Prince Charming's favorite meals (in addition to the Tortilla Soup and the Stromboli). You can download the PDF here:  Easy Chicken Marsala.
This should feed 4 adults…but our family consisting of 2 adults and 2 children can literally lick the pan dry.
 1. Thaw 1 lb. of boneless skinless chicken breasts. I buy the huge bags at Sam's and then defrost in the microwave.
 2. Pound the chicken breasts. I couldn't find my meat tenderizer, so I had to improvise. 
 3. Cut pounded meat into strips (about 1-1.5 inches).
 4. Mix 4 T. flour, salt and pepper…
 …and coat all sides of each chicken strip.
5. Heat 2 T. olive oil in a large skillet over medium-high heat.
 Cook about 5 minutes total, turning once. Once the chicken is cooked through, transfer to a plate and set aside.
 6. Next, add 1 T. butter and your 10 oz. package of mushrooms to the skillet. Cook, stirring occasionally, until lightly browned (about 5 minutes).
 7. In the meantime, finely dice your shallot. If you have no clue what a shallot is (like me), it's basically just a tiny onion.

*And yes, I washed both the cutting board and the knife off with warm , soapy water (and even turned the cutting board over). You can see the water in the right corner of the picture above. I've already had an e-mail telling me I shouldn't use the same cutting board and knife for uncooked meat and vegetables. This is my favorite knife (Cutco) and my only cutting board.
 8. Transfer cooked mushrooms to the plate with the chicken. Set aside.
 9. Put your diced shallots and 1 T. of butter in the skillet. Cook until golden.
 Now it's time to add 1 cup Marsala wine and 1/2 cup chicken broth. We use cooking wine because we're not wine-drinkers. If you don't have any chicken broth on hand, use a tiny bit more marsala wine and water to make up the difference.
 10. Add the wine and chicken broth to the shallots. Simmer until reduced by one-third (about 5 minutes).
 11. Then put the chicken and mushrooms back in the skillet. Cook on low heat until about half of the liquid is absorbed.
 Yummy…I almost want to lick my computer screen right now.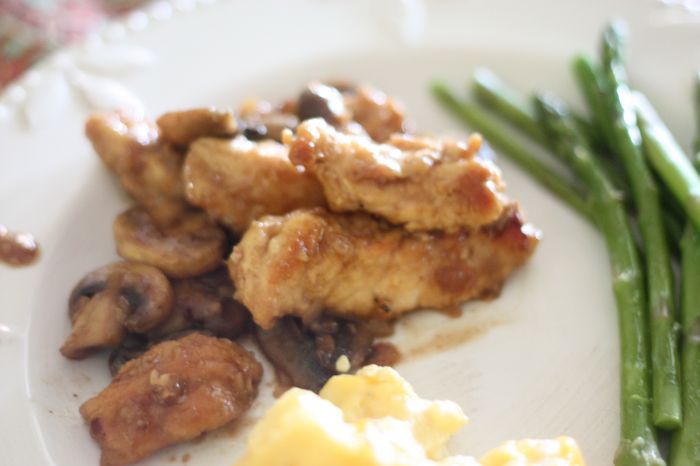 Ready to serve!!!
 We like to eat it with steamed asparagus. My children love asparagus. Especially with a little (or a lot) of parmesan cheese sprinkled on top. I, however, do not enjoy changing Little Brother's putrid-smelling wet diapers after he eats asparagus.
This time we also had some of my sister-in-laws famous scalloped potatoes that were leftover from Prince Charming's birthday party. Yummy!