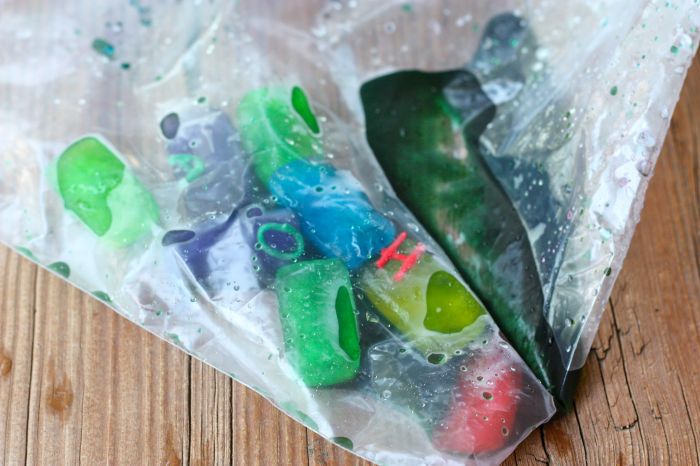 We've done several variations of "I Spy" activities…"I Spy" bottles, "I Spy" mats, and an "I Spy" Magnifying Glass. This fun variation, however, adds a sensory element using ice cubes.
Here's what you'll need:  ice cube trays, water, food coloring, ziptop bags, and small trinkets (pennies, googly eyes, small letters or numbers, paperclips, etc).

1. Fill the ice cube trays with water and add food coloring.
2. Add a small item/trinket into each ice cube compartment. We used pennies and letters formed with Wiki-stix.

3. Freeze .
4. After a few hours, take out and dump into ziptop bags (we used gallon-size because I was out of the sandwich size). Tip:  Put 2 different primary colors in each bag. That way, when the ice cubes melt, the colors will mix. I wish I would have thought of this earlier…the final color of our bags was an ugly purpleish-brown.
5. Head outside. Give the bag to your child and have him hunt for the objects frozen in the ice.

Can you see the penny?

Big Brother got a little side-tracked as we were waiting for the ice to melt and decided to start spraying the bags with water.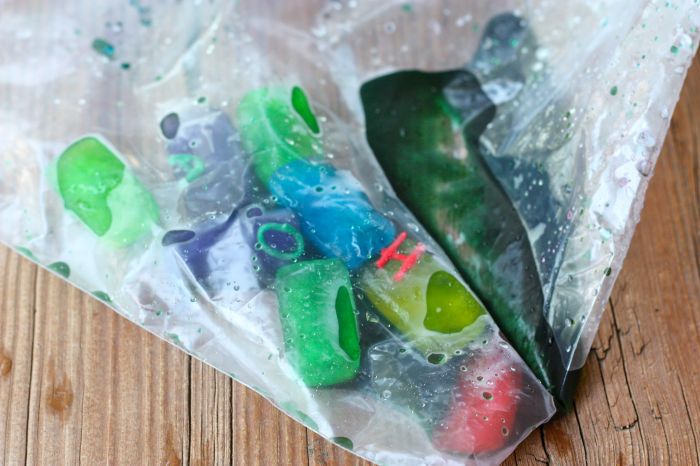 Ta-Da! The objects appeared as the ice cubes melted!
Looking for another "icy" activity to beat this summer heat??? Try going ice fishing!