Personalized Mother's Day Tea Towel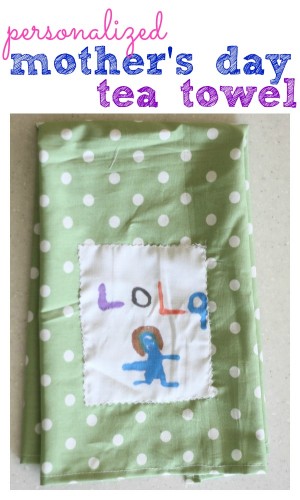 I love giving my mom and mother-in-law something cute and personalized from the boys each year. Two years ago, we made personalized pot holders and candles and last year we made refrigerator picture magnets. We were running out of ideas this year, but decided to make a cute little tea towel using some extra fabric we already had and fabric markers.
Here's what you'll need:  some extra fabric (or a plain store-bought tea towel), white fabric, a sewing machine, and fabric markers.
1. Take your scrap fabric and cut it about the size of a typical tea towel (I didn't measure…just eyeballed it). Fold over half an inch of fabric and sew the edges on each side of the tea towel. Most people pin when they do this, but I am too lazy…I just fold it over as I go along. :)
 2. Cut a small piece of white fabric. I used pinking shears to cut it, so the edges wouldn't unravel. Pin it on your other fabric and use a zig-zag stitch to secure it on.
 3. Let your little one add the design with fabric markers.
 My boys call my mom "Lola".
Big Brother started calling my mother-in-law "Bumba" when he was little and couldn't say "Grandma". The name stuck.
Please excuse my water-streaked dishwasher. :)
What is your favorite personalized Mother's Day gift???
YOU MAY ALSO LIKE:  5 Mother's Day Crafts Preschoolers Can Make