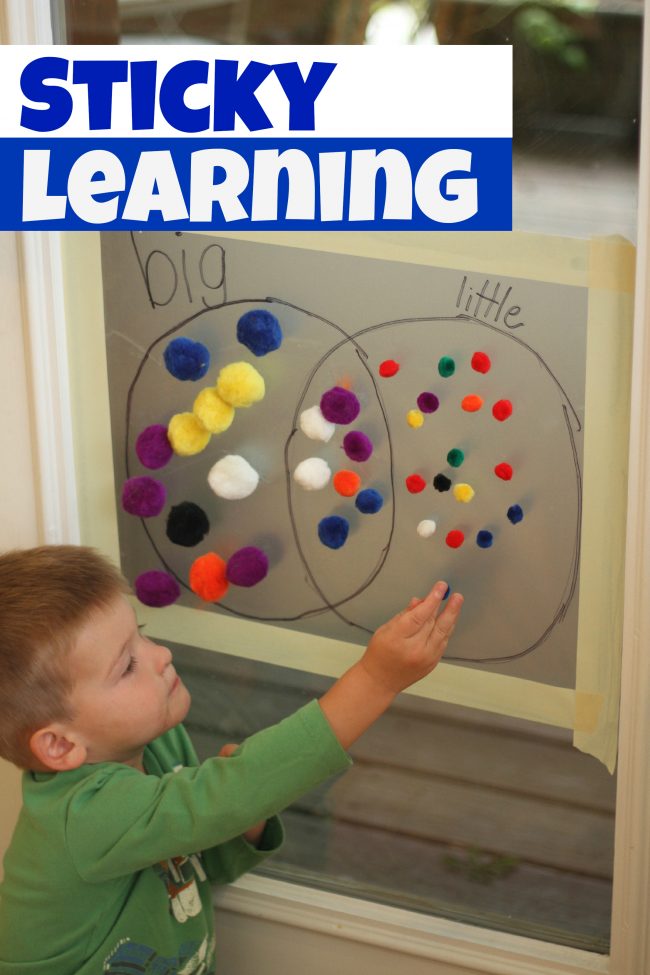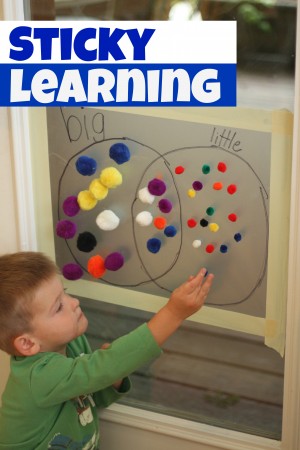 Use a few simple materials to have some sticky learning time! Adding the element of a vertical surface can completely transform skills such as patterning and sorting!
It was a cool, rainy day yesterday (perfect for this activity)…and it was also a day that we didn't have anything going on so we stayed inside the house all day. Needless to say, it was a rough day on everyone. Complete defiance, lying, and a rubber splash guard from our potty being flushed down the toilet all nearly led to my utter demise. But we all persevered relatively unscathed (besides some harsh words spoken) and the kids went down for their nap/rest time EARLY.
Here's what you'll need:  Masking tape, contact paper, and pom-poms (which we received compliments of CraftProjectIdeas.com).
1. Tape a piece of contact paper sticky-side-out onto your window/door.
2. Get your pom-poms ready!
We decided to make some patterns.
Next, we sorted the pom-poms according to size onto a Venn diagram. Technically, this isn't the proper use of a Venn diagram (which I remembered as I was drawing it with Sharpie ON the contact paper) since the center of the Venn is supposed to be reserved for things that fit BOTH of the outer descriptions (like classifying animals who live on land AND water). But we're going with it anyway…just don't tell my fourth grade teacher! ;)  If I were to do this again, however, I would just make 3 freestanding circles that DON'T intersect!
Put an assortment of sizes in your bowl…
 …and let your kids go to work. They put the medium-sized poms in the overlap.
Aha! One of our "moments" yesterday caught on camera…Little Brother is swinging his arm to hit Big Brother in this photo (and no, I didn't intentionally take a picture of this…I was only trying to capture the activity)! :)
 Settled down…now that he got some uninterrupted time to do the activity by himself.
 Admiring his work!
The best part is you can use the pom-poms for another fun activity!