Old Testament Prophecies and New Testament Fulfillments in Jesus
Last year, our church adopted a rotation-model curriculum. I have volunteered as a supplemental writer to add additional activities and resources to make the new curriculum structure work for our specific congregation. I've supplemented units on Noah, Moses and the Plagues,
Solomon
, and my latest unit on the Prophets foretelling Christ's birth. It has definitely been the most difficult unit to supplement (by FAR).
Our units involve 6 weeks of classes revolving around areas of interest such as drama, geography/culture, hands-on science and art, storytelling, games, and music. To stretch specific prophecies about Christ's birth into all of these areas was a challenge, to say the least. We were lacking a meaningful art/craft project, so that was at the top of my list.
I was inspired by this Easter Countdown puzzle idea from the Paquette's blog, which includes Old and New Testament prophecies/fulfillments surrounding the death and resurrection of Jesus. It is such an awesome idea, especially for Easter! But I wanted the scriptures to tell of prophecies specifically about Christ's birth to fit with my unit, so I remade my own. I'm sharing this right before Easter, but it would also obviously be appropriate any time of the year (especially Christmas)!
I've included two separate puzzle mats…one with guides (for younger children) and one without (for older kids). You won't need both, but they are both included in the printable below. Also, I couldn't figure out a way to do this on the computer, so I made it all by hand and scanned everything in. My handwriting isn't the neatest! :)
1. Use watercolors to paint over the puzzle pieces. You can also paint the mat, if you choose. Just make sure to instruct your child to paint lightly so that the words can still be easily read.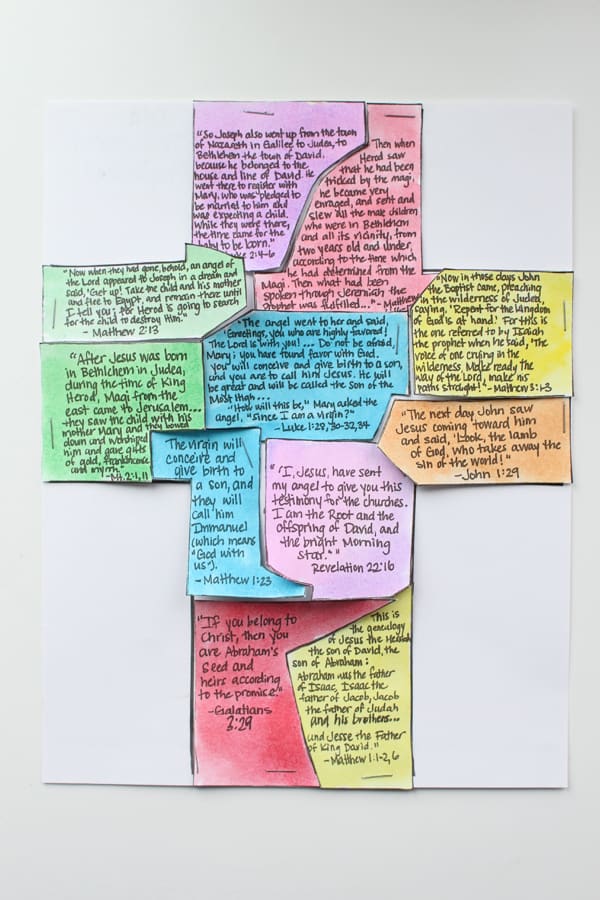 2. Cut out the puzzle pieces and use a stapler to make flaps.
 3. Open the flap to read the Old Testament Prophecy and then the new Testament fulfillment on top.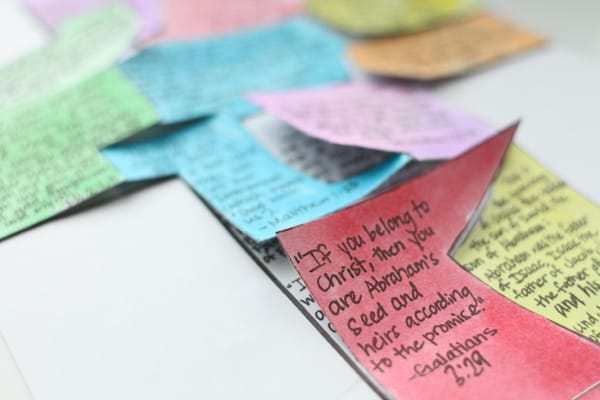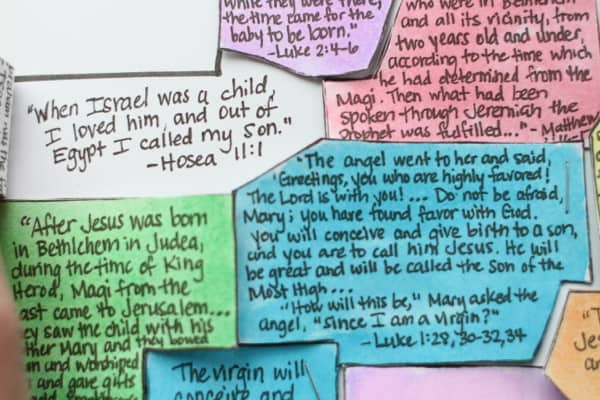 Check out more faith-based activities and posts here.