Scooping and Sorting Lids for Toddlers
It's Day 5 of our 31 Days of Outdoor Activities for Toddlers series! Today we recreated an old favorite…scooping and sorting lids for toddlers! We have done this activity in a variety of different ways but today we decided to try it outside in a water tub!
This activity is a two-for-one! Your toddler will get some great fine motor practice using the spoon to scoop the lids (which is harder than it might seem) while simultaneously encouraging the cognitive concept of sorting based on similar characteristics (in this case, color).
I have quite the stash of lids…from gallons of milk to the caps of fruit/veggie puree. My husband teases me because I have been actively trying to embrace minimalism and purge our house of unnecessary items….yet I can't seem to let my collection of plastic lids and caps go! They make the BEST manipulatives and don't cost a thing! Plus, it is recycling! How can one go wrong to keep hundreds of lids?!?! ;)
Safety Note:  If you have a toddler who still puts items in his/her mouth, I would suggest using plastic balls instead. The lids are typically large enough to not be a choking hazard, but I would not take a chance. As with all of our activities, please make sure your child is supervised every second.
Here's what you'll need:  
A nice stash of lids/caps
Containers of a variety of colors (I bought mine several years ago)
Water
Plastic Tub
Serving Spoon
1. Fill your tub with water and lay out your colored pails.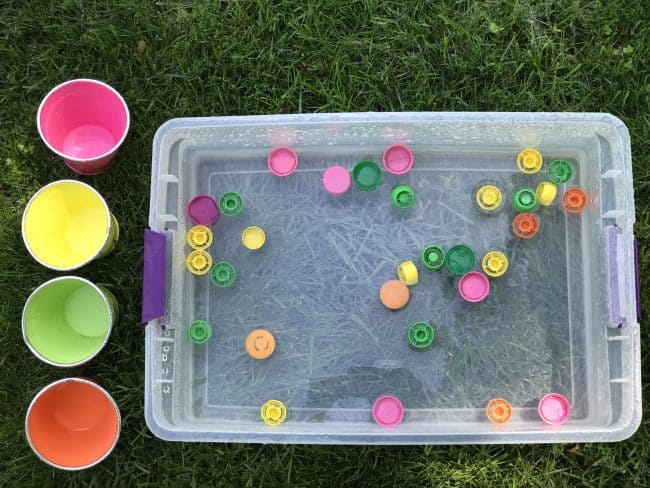 2. Dump caps of corresponding colors into the tub of water.
3. Let your little one get started scooping and sorting!
Little Sister ended up needing to use her other hand to keep the opposite end of the spoon steady enough to transfer the lids/caps.
All done! Don't mind her runny nose or remnants of Oreo cookies around her mouth. I could have edited them out…but this is real life!
Here are more activities using lids: