How To Make Fabric Easter Baskets
First published 2011. Updated 2019.
Fabric Easter Baskets
These adorable fabric Easter baskets are so much fun to make and they make a wonderful keepsake you can take out year after year! I used to make them every year in my first grade classroom around Easter.
About 15 minutes into making our baskets (and once glue was successfully smeared over every surface in the classroom), I usually wondered why in the world I chose to make these once again. But the kids loved them, the parents adored them, and it was something out of the ordinary!
Plus, 
this is a craft that ends up looking good no matter what!
Even when a child chose the most horrendous colors or sloppily stuck the fabric on…once they were dry they looked absolutely adorable, despite my serious doubts during the process! Children as young as
3 years old
can help with this Easter craft, though they probably won't be "helping" from start to finish.
How To Make Fabric Easter Baskets
Here's what you'll need:
pinking shears (or scissors)
scrap fabric cut into 1-2 inch squares (using the pinking shears)
a balloon
glue
hole punch
wired ribbon.
How To Make Your Balloon Basket:
1. Blow up the balloon and draw a line about 1/3 of the way up the balloon.
2. Pour out a bunch of glue on a covered surface. Be prepared to use about 1/2 a bottle of glue on one basket.
3. Dip each individual piece in the glue (so that the backside is nicely coated) and place

below

 the line on your balloon.
Continue, making sure to stagger the fabric pieces on top of each other so as not to leave any holes.
Big Brother had fun doing this…for a little while anyway. After about 5 minutes, he was ready to get the dried glue off his hands!
4. Once every area of the balloon (below the line) is covered with absolutely no holes, take more glue and wipe it across the top of the entire surface. Make sure there is a

thin

layer of glue over every piece of fabric.
5. Hang it up to dry overnight (or longer if necessary). I used a child-size hanger and attached it using a clothespin, hanging it off our dining room light fixture. Make sure you put something underneath wherever you hang it because it will most likely drip a little glue.
See?
6. Once it is

completely

 dry (overnight or longer) and there are no sticky areas, use a needle to pop the balloon.
The balloon will separate itself from the basket as it deflates…
But you might have to help it along a bit, especially if it is not

completely

 dry.
Take the balloon out and toss it.
7. Use a hole punch to make a hole on each end of the basket.
8. Cut a long piece of your wide wired ribbon and twist one end.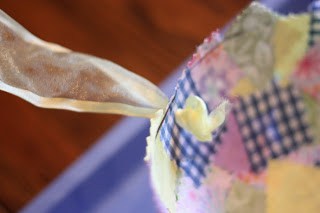 9. From the outside in, tie a couple knots in the ribbon until big enough to not slip through the hole. Repeat on the other side.
I love how this basket kinda looks like an Easter Egg itself…especially when turned upside down!
Check Out More Fun Easter Ideas
Cute Easter Treat – Easter Dirt Pudding