Easy Mother's Day Vase Craft
Fun Mother's Day Vase Craft For Kids
Post by Contributing Writer Amy
"MOM! Come see! The flowers are blooming!"

"Yeah! They are so beautiful!"
I peered out the window, expecting to see the neighbor's tulips in bloom. The flowers they were in awe of were the dandelions dotting our front yard. Where some see weeds, kids see beauty. I love that! When a little one sees beauty in the world and wants to share it with someone they love, it deserves something special. When a bright bouquet of dandelions is presented with a proud smile, not just any old cup of water to will have to do anymore. You can put them in these dandelion glass vases made from recycled spice jars! These would make a cute Mother's Day gift for your Mom or Grandma.
How To Decorate A Glass Vase
Step 1:  First, you need a spice jar. Just peel off the labels when they are empty. You don't even have to worry about cleaning off the sticky goo that is left behind. Easy!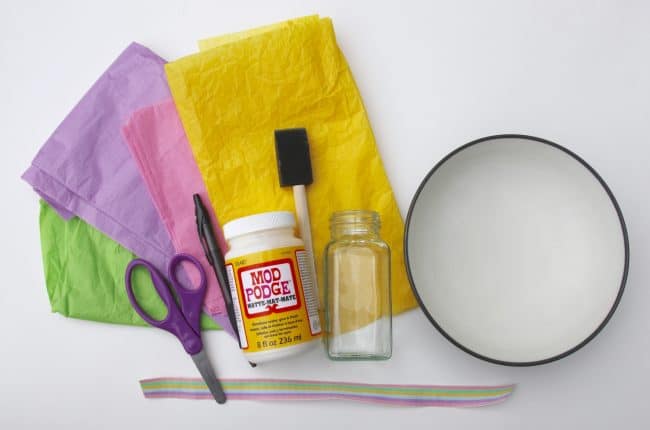 STEP 2:  Once you gather the rest of your supplies to decorate your glass vase, you are on your way to your own dandelion vase. You'll need:
Tissue Paper
Ribbon
Scissors
Pen or Pencil
Foam Paint Brush
Empty Spice Jar
Bowl for the tissue pieces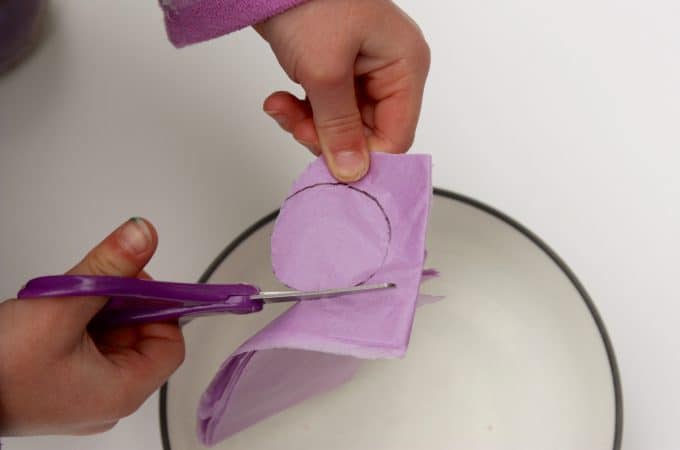 STEP 3: Decorate A Glass Vase With Tissue Paper
Have your child decide if they want to rip the tissue into pieces, cut into squares, or into circles. My little hand model here chose circles, so she traced the top of the spice jar on several layers of folded tissue. She was able to cut out many circles at once that way!
You can throw away the top circle with the pen marks on it before dumping them in a bowl. Then, repeat with each color. It doesn't take much tissue to cover one vase. This bowl of tissue paper was enough to decorate 3 glass vases.
STEP 4:  Next, I had her stick her fingers inside the jar to hold it. Using the foam brush, have your child paint the outside with Mod Podge and stick the tissue to it. Overlapping is just fine! Don't worry about putting tissue on the part where the lid screwed on the jar. You'll decorate that part of the jar with ribbon later.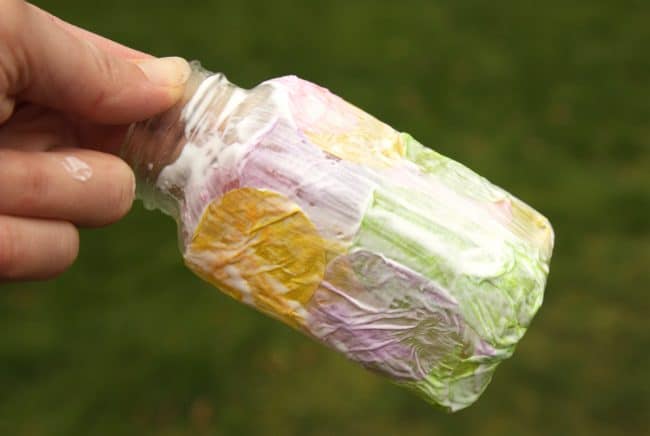 STEP 5:  Using the foam brush again, your child can paint a thin coat of Mod Podge over the top of the tissue to seal it up. She got it on a bit thick, but it still turned out great!
Decorated Glass Vases With Tissue Paper and Ribbon
You can see how the first vase was done with ripped tissue, the second vase with circles, and the last vase with squares. All turned out as cute as can be! Tie your ribbon around the top of the vase to finish it off. You could add some hot glue to make sure it stays on, if you'd like.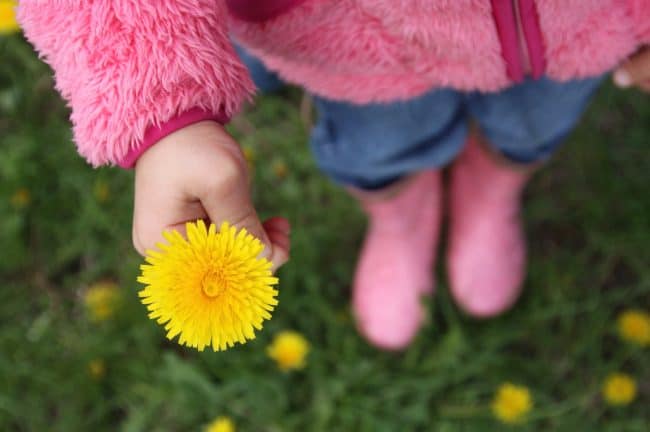 Now, all that's left is to go dandelion picking! Happy Spring!
Check Out More Sweet Mother's Day Craft Ideas
5 Mother's Day Crafts Preschoolers Can Make
Personalized Mother's Day Tea Towel
Cute Mother's Day Photo Magnets
Amy is a former reading and third grade teacher as well as a mother to three little girls with big personalities. She believes joy can always be found in playing, learning, and ice cream.
First published 2017. Updated 2019.