Scooping and Pouring Edible Water Beads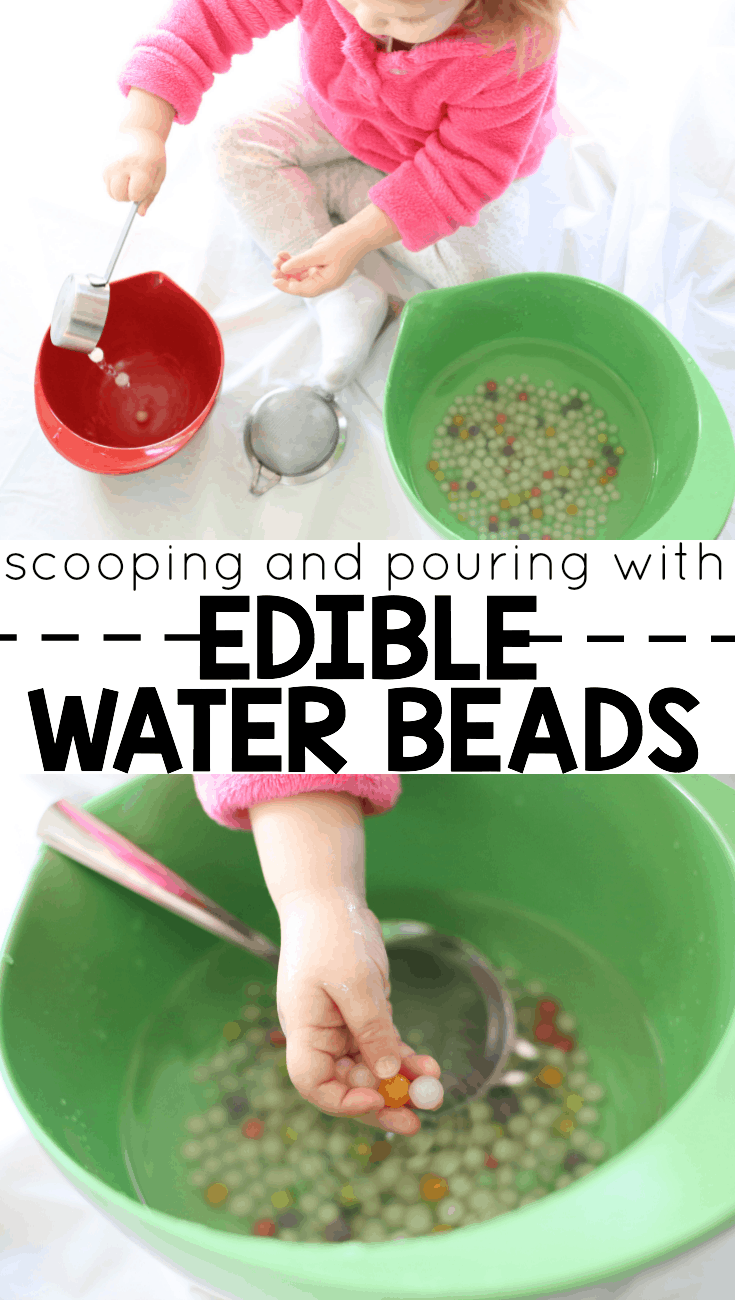 I have been a fan of water beads for play and learning for several years now. We have made a "What is Blood Made Of?" Sensory Tub, a Monster Sensory Tub, 4th of July Sensory Tub, and we even made Water Bead Slime. Unfortunately, however, water beads can be very dangerous for babies and toddlers. Little Sister occasionally still puts things in her mouth (although we are almost out of that phase- hallelujah). Because of this, I haven't attempted any activities that involve water beads (unless they are sealed in a bottle or balloon).
A few years ago, Kids Activities Blog shared that you can use Asian Tapioca Pearls as edible water beads. We had yet to try this until today when we did this Scooping and Pouring with Edible Water Beads Activity for our 31 Days of Indoor Fun for Toddlers series.
Safety Note:  As with all activities on ICanTeachMyChild.com, please supervise your child throughout the entire activity. Even though this is an edible activity, the small tapioca pearls can still pose a choking hazard for young children.
Here's What You'll Need:
–Tapioca Pearls (you buy these at an Asian grocery store or through Amazon)
-Water
-Bowls
-Spoons and Measuring Cups
1. Boil 10 cups of water for every 1 cup of tapioca pearls.
2. Measure out your tapioca pearls. We used just one cup, which was just over half of the package. I'm planning to use the rest to make some Mango Boba Tea.
3. Slowly pour the Tapioca Pearls into the boiling water. Turn down the water to medium and let them boil for 3-4 minutes (or according to package directions).
4. Remove the Tapioca Pearls with a strainer and then put them immediately in a bowl of cold water.
5. Grab your bowls, cups, and spoons and let your little one get started transferring the water and the edible water beads.
Little Sister sneakily ended up with a few in her mouth (of course–my exact reason for not using real water beads yet), but they don't have any taste by themselves so she didn't really care for them.
Their texture is remarkably similar to real water beads…they are just a bit tackier.
Little Sister played with this for about 30 minutes…which is pretty much like an eternity in toddler time, right? :)