Circle, Oval, Square, Triangle, Rectangle… identifying these basic 2-dimensional shapes and naming them gives our toddlers a foundation to understand more complex geometric shapes and structures in the future. Plus, it is amazing to see how many shapes we can see in God's creation! These shape activities for toddlers are a great way to introduce toddlers to the shapes they see in the world around them!
SHAPE ACTIVITIES FOR TODDLERS
Little Sister had a blast with this playdough shapes activity, and I was surprised how many of the basic shapes she could name.
Roll the cube and hop on the matching shape on the floor with this simple shape game for toddlers. Comes with free printable shape cards to use.
Make your own shape sorting bucket with a shoe box and various shapes and sizes of DUPLO blocks.
Hide our printable shapes in a tray of fake snow, or use wooden shape puzzle pieces instead. Let your toddler hunt for and name the shape they find.
Find out how to teach your toddler to recognize and name basic shapes with this simple bath time activity.
Use what you already have at home, with this super simple shape activity for toddlers. Play with playdough or cookie cutters by sorting them by color and shape.
Sometimes the simplest ideas are the best! Why not go for a walk around the neighborhood with your toddler and see what shapes you can spot.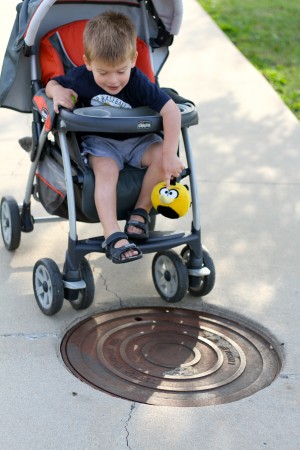 Create your own set of pattern blocks from foam that even a toddler can play with. Printable giant shapes template provided.
CHECK OUT MORE FUN ACTIVITIES FOR TODDLERS
Indoor Activities For Toddlers
Pumpkin Activities For Toddlers
Outdoor Activities For Toddlers
Summer Activities For Toddlers