Summer Activities For Toddlers
Thinking about fun things to do this summer with your 1 to 3 year old? Summer is the perfect time to get the kids outside and have fun with art activities, messy play, water activities and more. Below you will find over 15 fun and easy summer activities for toddlers.
15 Fun Summer Activities For Toddlers
Make your our own cute DIY Treasure Chest for Toddlers using a baby wipes container and baby food lids. And I just happened to have some gold spray paint leftover from our Solomon's Temple blocks to make our makeshift "treasure chest" and gold coins a little more authentic-looking.
Creativity at our house majorly suffers during the winter months, mainly because I don't want to clean up big messes indoors. Thank goodness that with summer comes more creative projects…which can easily be washed away with just rain or the water hose! Our rolling pin art for toddlers was definitely a messy hit!
Little did I know, Little Sister would absolutely LOVE this foamy painting activity. She thought it was so much fun to wash her hands and paint at the same time. This is definitely a toddler art activity that we will do again (I even saved the bottles so they are ready to go next time).
OK, we first did this fun toddler art activity indoors. But it is not for the faint of heart and would work so much better outdoors where you can hose any mess down!
Little Sister enjoyed this water soaker painting activity for toddlers. In fact, it looked like so much fun, her older brothers decided they should get in on the action too.
Go fishing…with a toddler spin! Little Sister had a blast with this fun summertime activity! It focuses primarily on hand-eye coordination and fine motor control (by manipulating the net). You can also add some color recognition and counting practice as well.
This is such a simple summer activity for toddlers, take along some paint brushes with you next time you are headed to the pool. Do be warned, you may find even the older kids want to to join in with the fun.
Sometimes the simplest ideas are the best! Why not go for a walk around the neighborhood with your toddler and see what shapes you can spot.
These DIY Toddler Golf Clubs made for the perfect golf-inspired summer activity for young children.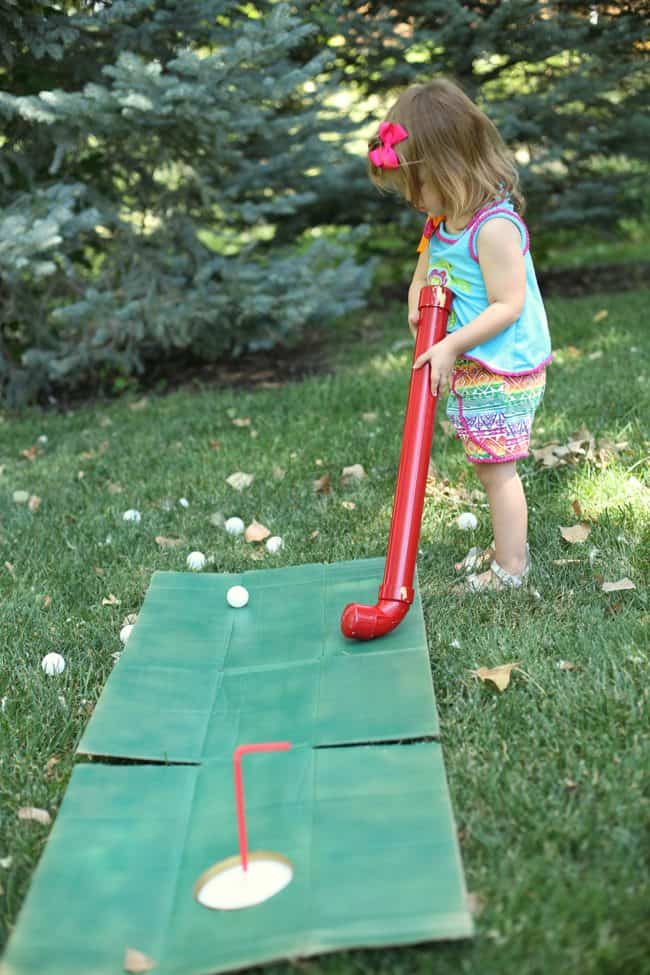 Balance is a tricky thing for a toddler. This is one safe way to ease into learning to balance. Just lay a piece of masking tape (or painter's tape) on the ground and encourage your little one to "walk the line". Suitable for indoors or take it outdoors during the summer!
This summer activity for toddlers could not be easier. All you need is assorted colors of chalk!
One thing that I love about the toddler age is that you can make anything a game. Kiddos don't even realize that they are learning because they are having so much fun in the process! This outdoor Alphabet Match for toddlers was a big hit with Little Sister and I was thrilled that she was actually enjoying learning letter names!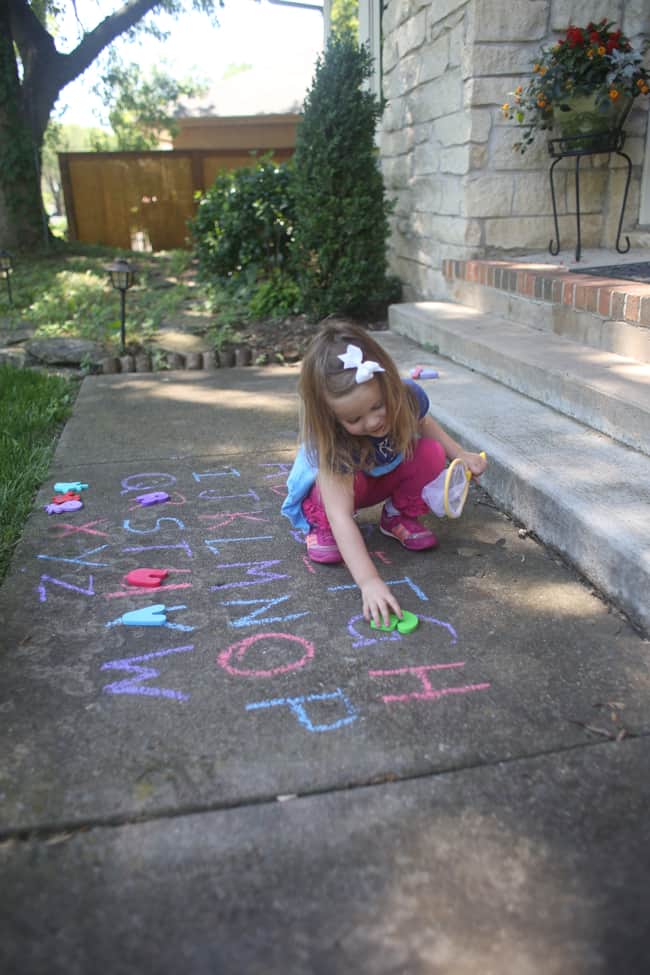 Not only is this summer activity for toddlers great for introducing and reviewing letter names (and even sounds), it is also great for fine motor control. Your child will have to use the small muscles in his/her hands to pull the trigger on the water gun while also aiming it to try and hit the alphabet targets!
We tried out this new sensory experience with shaving cream and cornstarch. The boys loved it and if we're being completely honest…I thought it was pretty cool too! :)
After it is mixed up well, it is moldable. The texture is nothing like I've felt before and I can't even do it justice describing it–you'll just have to try it out for yourself! Messy outdoor summer fun!
This summer activity is a two-for-one! Your toddler will get some great fine motor practice using the spoon to scoop the lids (which is harder than it might seem) while simultaneously encouraging the cognitive concept of sorting based on similar characteristics (in this case, color).
This balancing on boxes for toddlers activity is appropriate for little ones who have been walking for a while and are ready to attempt walking on uneven surfaces. Little Sister started walking at 10 1/2 months (my earliest walker) and is now 16 months old.
More Fun Toddler Activities